How to Write the Perfect LinkedIn Profile (Step by Step)
If your ideal clients were to look at your LinkedIn profile right now, what impression would they get of your personal brand, your professionalism, your credibility and your authority on your subject matter?
Would your LinkedIn profile convince your ideal clients you are the right person to help them?
If you are not sure, revamp your LinkedIn profile so that it represents you in the best possible light to attract your ideal clients.
This comprehensive LinkedIn tutorial will teach you how to write your profile so you can convince your ideal clients, partners and industry peers you can help them overcome their challenges.
Successful relationship-building and social selling (generating new leads) on LinkedIn begin with a powerful and professional presence. You must write your LinkedIn profile with your ideal clients in mind. Complete this step before you start connecting with prospects so that you never waste the opportunity to make the right first impression.
Keep in mind you have only seven seconds to impress a prospect or connection before they click away.
Follow this simple yet detailed guide to complete all the critical sections of your LinkedIn profile so you can attract your ideal clients.
Whether I work with a Fortune 500 company or a group of entrepreneurs, I always start with laying the foundation for having a powerful personal brand. And it starts with a professional profile.
Follow these steps to create a powerful LinkedIn profile to ensure all your endeavors on LinkedIn are a resounding success!
LinkedIn Training: How to Create the Perfect LinkedIn Profile
1. Add a professional profile photo
Display a professional profile picture. Ensure you are recognizable, professionally dressed, smiling and looking straight at the camera against a neutral background. Profiles with profile photos get 40% more views.
2. Customize your cover image
Your cover photo is prime LinkedIn real estate. Make sure to capture the attention of your viewers by uploading a professional image illustrating who you are and what you do.
3. Have a compelling headline
Your 
LinkedIn headline
 is the MOST critical part of your profile.
Ensure your headline captures your readers' attention and makes them want to click on your profile. You may also want to include one or two keywords you want to be found for in a LinkedIn search.
A vanity URL replaces a random, full of letters and numbers, hard-to-remember link with a unique, simple and memorable link, like your name.
If possible, use your name for your vanity URL. If your name is not available, try adding a middle initial or a designation at the end.
5. Customize your websites
LinkedIn gives you three spots to list your websites.
If you have only one website, make use of all three fields by filling them with web addresses of different pages on your website, such as your blog or a product or service page.
Instead of leaving the default description of your website field as "Company Website," customize it.
6. Update your contact information
Decide what contact details you want to make available. If you seek opportunities, you may want to make it easy for people to contact you. Relevant contact info can include your:
Twitter account
business address (optional)
phone number (optional)
7. About section (formerly the Summary)
Your About section is the perfect place for people to learn more about you. That's where you can shine. But until someone clicks Show more, they will see only the top part of your About section.
This section allows you to use 2000 characters to tell your readers about you and what you do.
Share your personal story, explaining why you chose your career path. Include information about who you are, your story, why you do what you do, and your background.
It's also where you can showcase your credibility on your topic and share your accomplishments.
Speak directly to your ideal clients and the problems they face, letting them know how you can help them solve their problems.
Finally, end your About section with a clear call to action. Tell your viewers what you want them to do next.
PRO TIP: Make sure you identify exactly who your ideal clients are so that your profile immediately resonates with them. If your ideal clients are VPs of Sales and you help them increase their teams' sales performance, say that in your profile. To view my entire About section on LinkedIn, click here. While you are there, feel free to click "Follow" to get updates from me.
You can add multimedia to some sections of your profile, including your About and Work Experience sections. Adding rich media makes your profile more interactive, providing viewers with more information about you.
LinkedIn's rich media feature allows you to add videos, Slide-Share presentations and PDFs. Videos are especially effective at humanizing you, giving people additional insights into who you are.
Your Current Experience section is where you describe what you're doing right now in your current position. To make your Current Work Experience section impactful:


describe your company –share the most compelling information about your company, including a USP, your mission and vision statements, or anything else that enhances the credibility of your company
list your products/services and benefits for clients – list all the products and services you offer, describe what they do and explain the benefits your clients receive as a result.
include a call to action – whether this short call to action is the same as the one you use in your About section or different, it should let the viewer know what to do next.
PRO TIP: If you have multiple services or niches you want to highlight in your profile, you can create more than one experience section within your current position. To group them together as I have (see image above), select the same start date for two or more different entries, and LinkedIn will automatically group them together.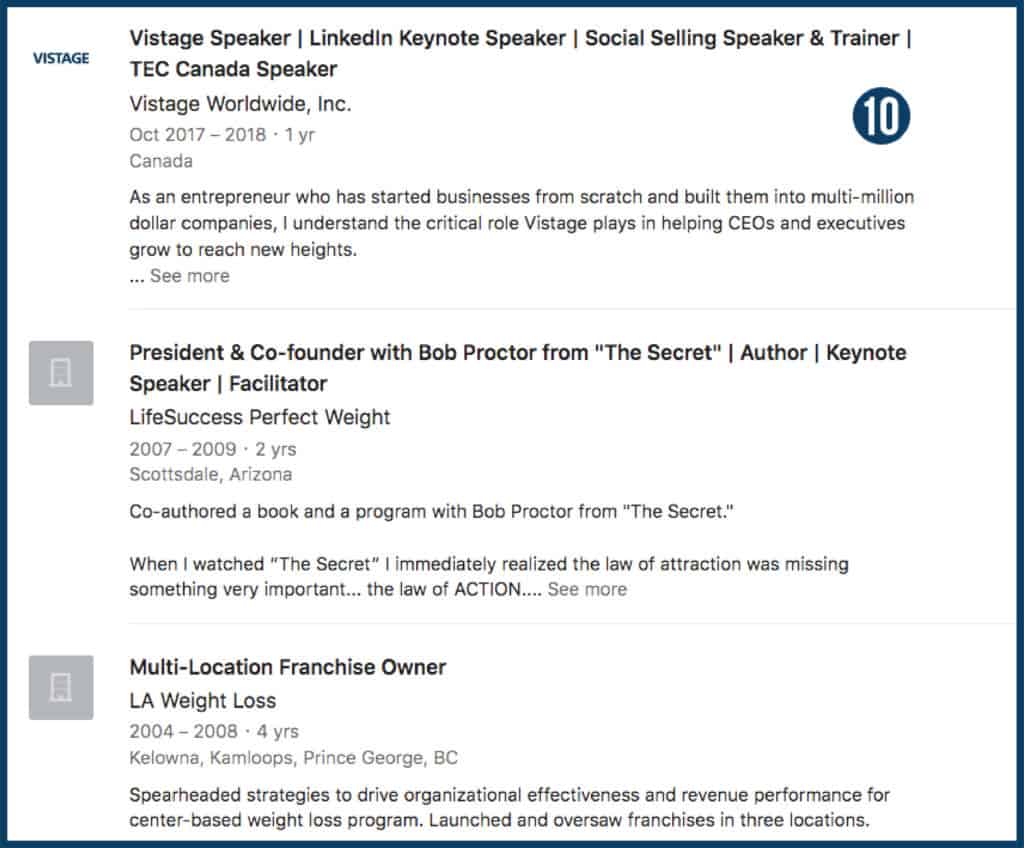 While you don't need to list every job you've had, include at least some of your past experience to ensure your profile looks complete.
You don't need to provide long descriptions for each past position. A couple of sentences or a short paragraph will be sufficient unless you have specific achievements you want to highlight.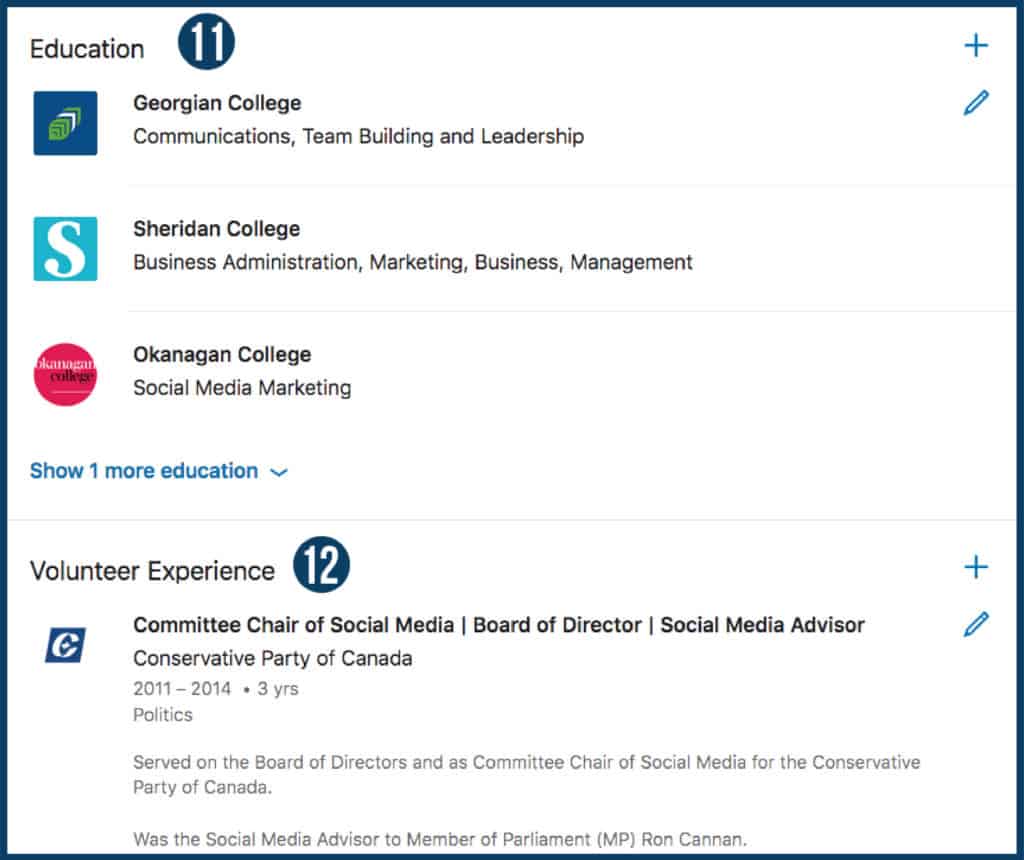 11. Include your education
Add any higher education you have completed. List any non-accredited training you received in the Courses and Certifications section.
12. Add volunteer experience
Unpaid work experience belongs in the Volunteer Experience section. List any boards you've served on, advisory services you've provided and any other volunteer work you have done.
13. Skills & endorsements
Include a list of the skills you possess, both as a form of 
social proof
(to be endorsed) and keywords you want to be found for. Your three most relevant skills should be listed at the top.
Recommendations are a powerful form of social proof because they come from  your current or past clients, colleagues and industry peers who have taken the time to write, in detail, about their experiences with you.
When people decide with whom to do business, they are often swayed by the decisions others have made. The more recommendations you have, the better. Quality recommendations are important. 

Ask for at least five recommendations from credible people who can genuinely vouch for who you are and what you do.
Ensure your profile looks complete and professional by filling out all the relevant areas in your Accomplishments section, such as Publications, Certifications, Courses, Projects, Honors & Awards, Patents, Test Scores, Languages and Organizations. 
These areas further establish your credibility and authority and help your viewers to know, like and trust you.
LinkedIn Training on How to Write the Perfect Profile
The last thing I want to cover is the importance of adding keywords to your profile so you can be found in the search results. Think about what your ideal clients would be searching for if they were looking for someone like you on LinkedIn.
For example, I serve a wide variety of clients. My social selling training helps large companies with sales teams; my books and online programs help B2B entrepreneurs and professional service providers looking for a LinkedIn expert; my LinkedIn training and workshops help government agencies; and as a social selling speaker and LinkedIn keynote speaker, I make life easier for conference planners.
Each word I underlined in the previous paragraph is a keyword I want to be found for. That's why I used all of them throughout my LinkedIn profile.
I hope you have found this visual step-by-step LinkedIn training on how to create the perfect LinkedIn profile helpful and practical.
To tackle creating a compelling LinkedIn profile, break it down into small steps, filling out one section at a time. Having a clear understanding of what you need to do in each section to look professional and credible to those landing on your profile will help you in this important task.
If you take the time to complete each section as outlined, you will be found by more people who will want to click on your profile to learn more about you. Many of them could be the perfect clients for you.
If you find writing about yourself difficult we offer a LinkedIn Profile Transformation service, where we've helped hundreds of busy professionals, just like you, grow their businesses with compelling profiles that…
Increase the number of times they appear in searches
Command their ideal prospects' attention
And have many of the prospects reach out to them!
We can do the same for you. Click here to learn more about our done-for-you LinkedIn profile writing service.
Comments
Comments are closed.