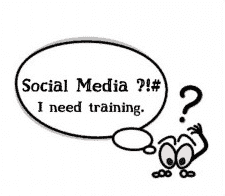 Have you been trying to grow your network marketing business online without any proper social media training? If you want your dog to sit, you train him, and social media training isn't much different than this process. Attempting social media without properly understanding what works, what doesn't and the proper etiquette can be a disaster.
Here is your introduction to growing your network marketing business using social media. Consider it a crash course.
Why YouTube is A Powerful Tool When You Know How to Use It
YouTube is the second most used search engine on the web. People tune into YouTube for a slew of reasons. They can learn how to roast a perfect chicken, change the oil in their car or find a homeopathic remedy for psoriasis. If you are just selling a product or promoting some opportunity without giving some beneficial information you will not have much success! Instead, offer quality advice to solve a problem if you want to use YouTube to grow your business.
Related: Social Media Strategy 101: 7 Tools You Need to Get Started
Create Trust & Value Without A Sales Pitch!
Share quality, informative content, without a sales pitch and you will soon become an authority on your topic, gaining respect, trust and credibility. With this positioning people will be much more receptive to learning more about what you do and explore an opportunity of working with you in your networking marketing business.
How Many Social Media Networks Are There?
The next important thing to know in your social media training is that while Facebook and Twitter are a great place to make contacts, there are literally thousands of forums where you can make connections in your niche and gain some serious followers so that your website or blog are visited frequently.
Don't think that by just posting on Facebook that you are going to get lots of sales or business contacts.  You can't ignore the big guns, but don't underestimate highly targeted forum presence for building a social network. LinkedIn, Google+, Foursquare and StumbleUpon are other examples of good places to get a presence going.
Don't Listen to the Naysayers
Social media is not a fad, it is here to stay!  You know that when Google starts to try to compete with Facebook and Twitter.  Social media has changed the way we do business and has become one of the hottest forms of marketing over the past couple of years, and continues to gain momentum! There is a reason that a Facebook referenced movie was made and sold billions at the box office.
Consistency is one of the most important things in social media. It is important to be consistent with your blog and all of your social media sites. Studies have shown you're your results with social media directly correlate with the amount of time you invest in it regularly and the amount of time you have been using it overall. Your persistence will pay off more and more over time.
Related: 10 Things You Must Know About Social Marketing
Social media training can give you the edge you need to compete with sites that already know how to get their high quality content to the top of Google's first pages using the new Panda Algorithm. You need quality content to drive interest and a social media presence to spread that content all over the web. This is what brings you the real goal you seek, which is to use popular social networks to grow your network marketing business.
Every day I see network marketers making huge mistakes on Facebook, Twitter, Google+ and LinkedIn, pitching, pitching and pitching their business to people who don't care and are NOT interested. Also this achieves is having people block, delete or ignore you. Use social media as it was meant to be used, to build relationships, it is relationships that will grow your business. Get proper social media training so you know how to do this right, otherwise you are just wasting your time, while irritating the people in your networks.
What would you like to see in a social media training for network marketers? Share in the comments below.