5 Overlooked Techniques to Promote Your Webinar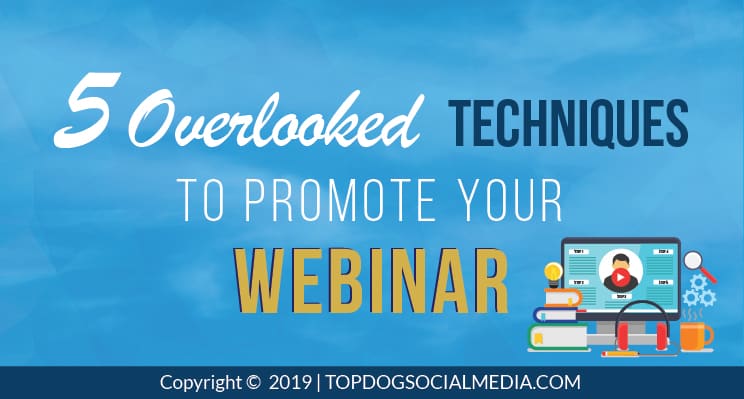 If you are looking for a content marketing method that will generate a lot of leads and sales, you should be thinking about running webinars. A good webinar landing page can convert 40 to 80% of visits. And a good percentage of these registrants will also turn into customers after they attend the webinar.
But your webinar won't magically begin generating leads and sales, just because you put it out there. To ensure it converts, you need to design a compelling webinar that generates sales and accompany it with a marketing plan that will attract visitors and get them to register.
In this article, I am going to show you how to promote your webinar to get more people to register. I will also share some tips to create better webinars people will want to attend.
Offer multiple webinar viewing options
When most people run a webinar, the only viewing option they offer is a direct stream on the webinar platform, but if you offer people the opportunity to watch it on social media too more people will be interested. A report found that when it comes to live streaming the most preferred media for viewing is social media. More than half of live streamers like to watch videos this way.
This is why, along with streaming your webinar on a webinar platform, you should live stream it onto the top networks. A tool that can help you with this is ClickMeeting. It lets you simultaneously broadcast your video onto Facebook and YouTube while you run the live webinar.
When the webinar goes live, you can promote the one being hosted directly on the webinar software to the people who signed up, while you can promote YouTube and Facebook Live versions to your social media followers. You can also run retargeting ads promoting the live social streams to people who visited the landing page but didn't register. This will get you a lot more webinar attendees.
You can track the webinar performance across all three platforms to see which brought you the most engagement. Engagement can be measured by the number of comments/questions, the average time spent viewing on each platform, and which platform converted most attendees to sales.
Promote the webinar on your thank you pages
Most people neglect to make full use of their thank you page(s). The thank you page is the page people are redirected to after they sign up to a lead magnet or newsletter. Most people just thank people for signing up, but you can actually use this page to encourage people to register for your webinar or any other offer.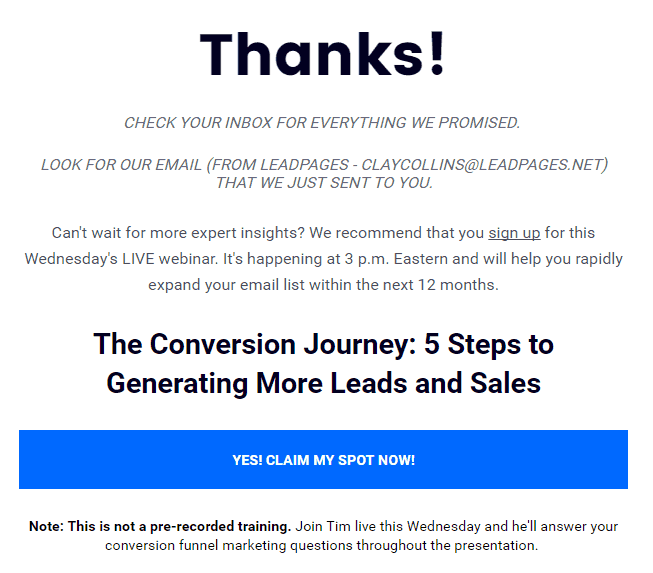 An example is this thank you page from Leadpages. You get directed to it as soon as you sign up to their list. This is a great way to immediately convert some of the people who opted into a lead magnet to register for more conversion-focused content like a webinar.
If you use this technique, you should make sure that the topic of the webinar is similar to the topic of the lead magnet people signed up for (to which the thank you page belongs to). Otherwise, your conversions will be low.
Also, make sure that you remove the promotion to the webinar on the thank you page once the webinar ends. Signing up to a webinar that doesn't exist will disappoint a lot of people.
You can actually make use of a feature offered by Leadpages to automate this process. Leadpages has a countdown timer option which you can add to your landing and thank you pages. And you can set the landing page to automatically redirect visitors to another page once the timer hits zero.
You can set up this timer on your thank you pages and time it to when the webinar starts or ends. Once the timer hits zero, you can set it to redirect the visitors to another thank you page where a different webinar or lead magnet is being promoted.
Edit past webinars and share snippets on social media
Another way to get people to sign up to your webinars is by sharing snippets of past webinars on social media. This will show them the quality information they missed out in your previous webinars. So, they will be very interested in taking part in future ones. You can promote the link to the latest/next webinar in the description of the video.
To help you edit the webinars, you can use Screencast O Matic's Video Editor. It can help you snip the webinar down, and it lets you add elements like arrows to highlight the most important parts. You can also zoom in and zoom out on anything you want to highlight.
In the snippet video, you can also show some of the positive comments people shared in the webinar chat. Just zoom in on the comments or highlight them with an arrow. This social proof will convince more people to sign up. You can also share screenshots of social media updates from attendees complimenting your webinar in the video.
Hubspot teamed up with Melonie Dodaro and Michael Humblet and organised a webinar that combined using LinkedIn for lead generation, and building thought leadership through effective content marketing. This helped Hubspot get more attendees because they combined their following with that of Melonie and Michael's as they both promoted the webinar on Twitter, Facebook, and LinkedIn with updates like this one.
[TODAY] I have teamed up with HubSpot to offer a free webinar on how to generate leads consistently from LinkedIn and how to build a content machine to support that.

It's today at 9am Eastern!

Register here👇👇👇https://t.co/pjDcR3vCFp#SocialSelling #B2B

— Melonie Dodaro 🇳🇱 🇨🇦 🇬🇧 🇩🇰 (@MelonieDodaro) June 26, 2019
To find influencers, just search for a keyword from your niche on Social Animal. This will show you the top-performing posts on the topic and who wrote them and who shared them.
Check out the authors of the posts and the influencers who shared the post on social media by clicking on the author's name and on 'View Sharers'. You can then study their social presence and figure out how big of an audience their websites have.
If they have a sufficient number of people to promote your webinar to, you can team up with them and co-host a webinar. Make sure you schedule a call with them to discuss content planning and webinar promotion.
Use white paper syndication sites
White paper syndication sites are websites that promote ebooks and white papers created by other companies. These sites get a lot of traffic and have a massive list of leads to promote to. The lists are also highly segmented by the position of the subscriber (CEO, Chairman, CMO, CTO, etc.) Therefore, adding a lead magnet like an ebook to these sites can help a company get a lot more relevant and qualified leads.
Some sites like Tradepub also syndicate live webinars. So, it would be worth looking at teaming up with a site like this to syndicate your webinar to get more subscribers.
But it is important to note that these sites charge a lot per lead. You should only use them if the value of your offer justifies the costs and you are confident in your conversion rates.
Leverage these techniques to promote your webinar
These five techniques are often overlooked by most businesses, and leveraging them can help you to put a lot more registrants into your webinars. Use them to improve your webinar promotion dramatically. For best results, begin plan 4-6 weeks in advance to promote the webinar.
Comments