6 Steps to Launching a Business Pinterest Page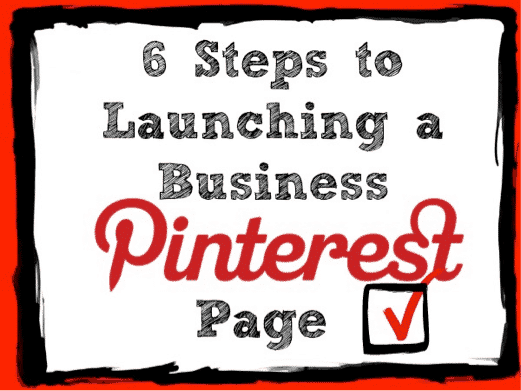 Have you considered using Pinterest for your business?
Are you wondering if this visual social media platform for you and your business?
Pinterest now has over 70 million users around the globe. Many businesses are having some great success with Pinterest. For example, Sephora says their Pinterest followers spend 15 times more than their Facebook fans. If you think it may be time for your business to dive into the Pinterest trenches you might be wondering, "Where do I start?"
In this blog post we will cover 6 steps to launching a successful business Pinterest page.
Step 1: Decide Your Pinterest Strategy and Goals
Like any good business plan, it's very important to know clearly what your marketing strategy and business goals will be for using Pinterest. There are generally three main goals for businesses using Pinterest:
To generate sales for your retail business, whether it's online or offline
To generate leads for your service business
To help raise brand awareness of your service or product
One of the biggest mistakes that a business can make is to go in with an undeveloped strategy or one that is too vague. Let's take a look at Air Miles, Canada's largest loyalty program that offers points that can be redeemed for gifts or flights when you shop at specific retailers.
I'm confident that there are two big goals for Air Miles Canada for their Pinterest page.
Their first goal is to drive new signups for their loyalty membership card. The second is that they are trying to encourage existing users to shop at retailers that offer Air Miles points. If you look carefully at their boards there's no indication that those boards are about retailers that they can shop at to collect points.
Upon first impression, the names of the boards seem like a random mix that has nothing to do with collecting points or about their loyalty program. They haven't updated their boards to reflect the changes of the seasons, a big no-no when it comes to Pinterest marketing. By promoting purchases that are for spring when it's almost fall is not going to encourage people to purchase products.
Make sure your Pinterest page is able to clearly move a potential customer towards your business goals.
Step 2: Research Your Competitors
The next step is to take a look at what some of your existing competitors are doing online by visiting their website and their Pinterest account. If you don't see a link to Pinterest from their website then try to Google the words Pinterest and your competitor's name.
Look at the way they set up their boards and pins in detail
Examine popular pins and try to discern any patterns
Write down ideas for pins and boards that you feel would be applicable to your business
Also be aware of the mistakes they are making and how you can improve upon what they are doing
You're also able to find out what people are pinning from their website. This is a data gold mine. If you own an online shoe store and you want to see what's being pinned from a competitors website directly onto Pinterest user accounts, you can type in the following (change competitorsite.com to their url):
www.pinterest.com/source/competitorssite.com
eg.  www.Pinterest.com/source/meloniedodaro.wpengine.com
Here is a screen capture of what people are pinning directly from TopDogSocialMedia.com
This will offer you so much insight into your competitor's customers and how they like to interact with brands. Every item shown is something that was selected and pinned by a real person that could potentially be one of your customers. There is nearly endless information available that can help you get an edge against your competitor.
Step 3: Decide What Type of Boards and Pins
Now that you have a good understanding of your competitors, next you want to determine what type of boards your business should create. Write down as many ideas as you can for potential board names that you believe are related to your targeted audience.
Look over that list and cross off the ones that definitely don't apply to your business. Now choose the top three that will help with your marketing goals. These are the ones to spend the most time with when starting off.
Every business will be different depending on their branding and social media guidelines.
Try not to create too many boards at first unless you have a team working on contributing to the account. Keep your first few boards focussed on the priority goals and then slowly create and add more boards.
All the boards that you create should relate to your business goals, your branding or your business strategy. Sqrall.com, a social media community for collectors, has over 1.6 million followers on Pinterest. Their boards are all aligned with their branding and company goal of creating a growing social media community for collectors across the world.
Sqrall manages to stay on track by avoiding what's hot on Pinterest such as weddings or women's fashion, instead focusing on what really excites their followers.
I encourage you to cross promote popular themes on Pinterest with your business if it is possible. TOMS shoes is a great example of this. Weddings are incredibly popular and so they have a board that shows off their shoes in wedding pictures. This is a creative way to be relevant to your customers' interests as well as the general Pinterest user base.
If you're a fast food restaurant, having a board dedicated to wedding attire would confuse customers.
Step 4: Verify Your Website
As more and more businesses are on Pinterest, it's vital that you verify your website. A Pinterest page that has a verified website will have a checkmark next to it. This will help let your customers know that your Pinterest account is the official one.
You also want to verify your page to prevent your business from being taken advantage of by copycats. Any profile can technically put your business website in it.
Reduce the risks of others taking advantage of your brand and verify your website. The best way to do this is through using the desktop version of Pinterest.  Click on the top right hand side where your account is and go to "Your Boards."
Click on the pencil icon on the bottom right hand corner of your account description.
Go to the bottom where you've put your website, and then click on "Verify Website".
After that's done the following pop up will appear. You then have two options to verify your website and Pinterest will give you a file download. This file must be then uploaded onto your server where you host your webpage or the other option is to use the meta tag option and have it before thetag in your main website's HTML.
Check out this tutorial from Hubspot on how to verify your website on Pinterest if you need more help.
Step 5: Pin Great Pins & Pin Consistently
Once you have a good idea of what your boards are going to be like, this will help tremendously in guiding you on what type of pins you should be pinning.
007 Marketing does a great job of pinning some wonderful marketing content.  Their boards focus on social media, content marketing and advertising.  They pin consistently which is the main reason that the account has been able to get 14,000 followers as a marketing company.
You should pin every day for the first 3 to 4 months if you want to see your following consistently grow.  I encourage pinning 10-15 pins throughout the day. You can use ViralTag (a paid service) to help you schedule your pins throughout the day automatically.
You won't know what the best times to pins are at the start since every business is different but you will notice patterns as times goes on. Remember to think like your customers: what time of the day are they most likely going to have free time to use Pinterest?
For those that are in fashion, food and design, Saturdays, Sundays and evenings work are best.
For myself, pinning advertisements late at night has gotten many repins. My guess is this is because marketers tend to be night owls or perhaps they have to rise early and have a tendency to check their Pinterest accounts early in the morning.
To help get your pins clicked and repinned there are three types of pins that will enhance the virality.
Headline Pins. These are pins that are designed to give people a taste of what to expect if they click on the pin. This usually requires a strong dominant headline and text. Here's a pin from Melonie, about how to create a successful Linkedin group. Notice how she doesn't give away what the article is about, drawing in Pinterest users.
Infographics. These tend to spread very well in the world of business. If you create one, you can almost guarantee that it will get some repins.
DIY Instructographics. No matter what your industry, you can always teach someone how to accomplish a task with the use of pictures.
Beautiful Pictures. Having pictures that shows the beauty of your products or services will help increase the number of repins. Here's an example of one on Martha Stewart's Pinterest page.
Step 6: Build Your Community
Pinterest isn't an isolated tool for pushing messages, it's important to use your board to build community on and offline.
Etsy does a great job of getting members of their community involved by inviting guest pinners to pin content. This is a win/win situation for Etsy because it shows their commitment to members within their community and exposes Etsy members to a whole new audience.
Take the time to repin content that represents your brand if you think that your fans would enjoy it. Consider repinning content from influencers within your industry on a regular basis to help build relationships.
Once you've verified your business account, you'll be able to find out which users have pinned directly from your website with the analytics tool provided by Pinterest.
Pinterest users are considered the most impulsive purchasers out of all social networks, according to a study by Vision Critical. Being able to acknowledge these people will not only help increase sales, it will help create an emotional connection and answer questions your potential customer might have.
It can be a bit overwhelming when starting off with Pinterest but remember to take it one day at a time, focus on your business goals and to remain consistent. You'll find yourself slowly going from Pinterest to profits in no time.
So have you started to use Pinterest? Are you getting good results? Share in the comments below.
Comments