7 Simple Changes To Ramp Up Your Social Media Marketing
Are you getting the kind of results you want from your current social media marketing activities?
What if there were some small and simple changes that you could implement that would save you time, increase your effectiveness and bring you more success with achieving your social media marketing goals?
I am going to share seven tips that can help you do just that.
Making these seven simple changes to your social media marketing activities can make a huge difference in the results you are getting.
7 Easy Changes To Improve Your Social Media Marketing Activities
1. Turn Your Best Quotes & Tips Into Graphics
Want to get new eye balls on an old post?
Repurpose it by turning your best tips, tidbits and quotes into a graphic.
Find an article you want to increase traffic on. Then review the article for some small, helpful piece of information.
Take the quote or tip and using a tool such as Adobe Spark Post or Canva, turn it into a graphic that can be shared on your social media platforms. For optimal sharing, use these tools to create a couple of different sizes to suit the different platforms (this is relatively quick and easy using the suggested tools).
Now you can use this graphic with a link to the post to drive new traffic to it.
2. Vary Your Post Types
For increased success on social media, vary the types of posts you are sharing.
For example, on Facebook you might find that you are getting very little engagement when you just share links to your blog or other content.
Try mixing in images and videos (which get better views and engagement) to keep your followers interested and engaged.
Keep in mind – posting just videos or images can also get monotonous.
Different people prefer different types of content and even this can change based on how much time they have to invest and what information they are looking for at that moment.
Sometimes people want to read something in-depth on a topic they are interested in and sometimes they have less than 30 seconds to invest to watch a video clip or read a meme.
3. Create Specific Posts For Specific Platforms
Do NOT copy and paste the same post on each platform.
The platform and the audience using each, are unique and as such require a unique post.
That does not mean that you cannot create similar posts for each platform – but they should be formatted to meet the requirements (i.e. 140 characters per tweet on Twitter) and needs (i.e. appropriate hashtags on Instagram) of each platform and audience.
For example, here is the same post, formatted for Facebook, Twitter and Instagram.
4. Schedule All Posts For All Platforms At One Time
Posting and engaging on social media can be very time consuming, especially if you do not approach it in a strategic manner.
As part of your social media marketing strategy you should plan to tackle all of your scheduled posts for all platforms (for the entire week) at one time.
There are several reasons for this.
The first reason is that there are posts that you will want to share on all of your social media platforms, and while you will modify the post for each platform, they will be similar.
So it makes sense to schedule them at the same time.
The second reason is that it is much more efficient to focus one block of dedicated time to schedule your social media than it is to break this into smaller chunks each day.
Keep in mind that the more engaged your community the more time this will take. Many small businesses using two or three social media platforms should be able to schedule all of that week's posts in a couple of hours (once you are reasonably comfortable and knowledgeable using them).
I generally only recommend scheduling a week in advance in most cases, unless for example you are going to be away for a while or going into a hectic time/season for your business.
Prescheduling your weekly posts does NOT mean you can "set it and forget it". You still need to check in to each network daily to respond and engage with your community. In fact, if possible, it is a good idea to try to set aside a small chunk of time in the morning and at the end of the day for engagement.
Speaking of engagement…that is one task that can NEVER be scheduled or automated!
5. Schedule Posts To Reach An International Audience
You may be missing out on reaching and engaging with a large part of your community if you limit your posts and tweets to business hours within your own time zone.
While this does not apply to businesses that only serve a local market, if your business serves a global community (or could), schedule some of your posts to go live at different times during the day and evening to reach and engage a more global audience.
6. Pick The Right Automation Tools
Whether you are picking tools to help you efficiently schedule your weekly posts or to help you better collect and understand the metrics collected from each post, you want to make sure you are picking the best tool for the job.
Which tools you choose will depend on a combination of factors such as:
Your budget
How many users will be using the tool
How many accounts will be connected to the tool
The social media platforms you are using
The metrics you are trying to measure
And of course…personal preference
While many tools might do the same job, you will find you are likely to be more inclined to use one in particular, even if others have come highly recommended by people you trust.
Depending on your choice of platforms you may also need to consider more than one tool, which will also affect your choice.
Most tools offer a free trial and it is a good idea to test out each of the different tools that might work for your needs, to help you find the right fit.
7. Review Past Posts & Tweets For Trends
At least once a month you should review how your past posts and tweets are doing and look for potential trends.
These trends can show you if a certain type of post is getting better views or engagement and if a certain time of day is working better than others.
For example, on Facebook I get much higher views as well as engagement in posts with images (whether or not they include a link) rather than link posts.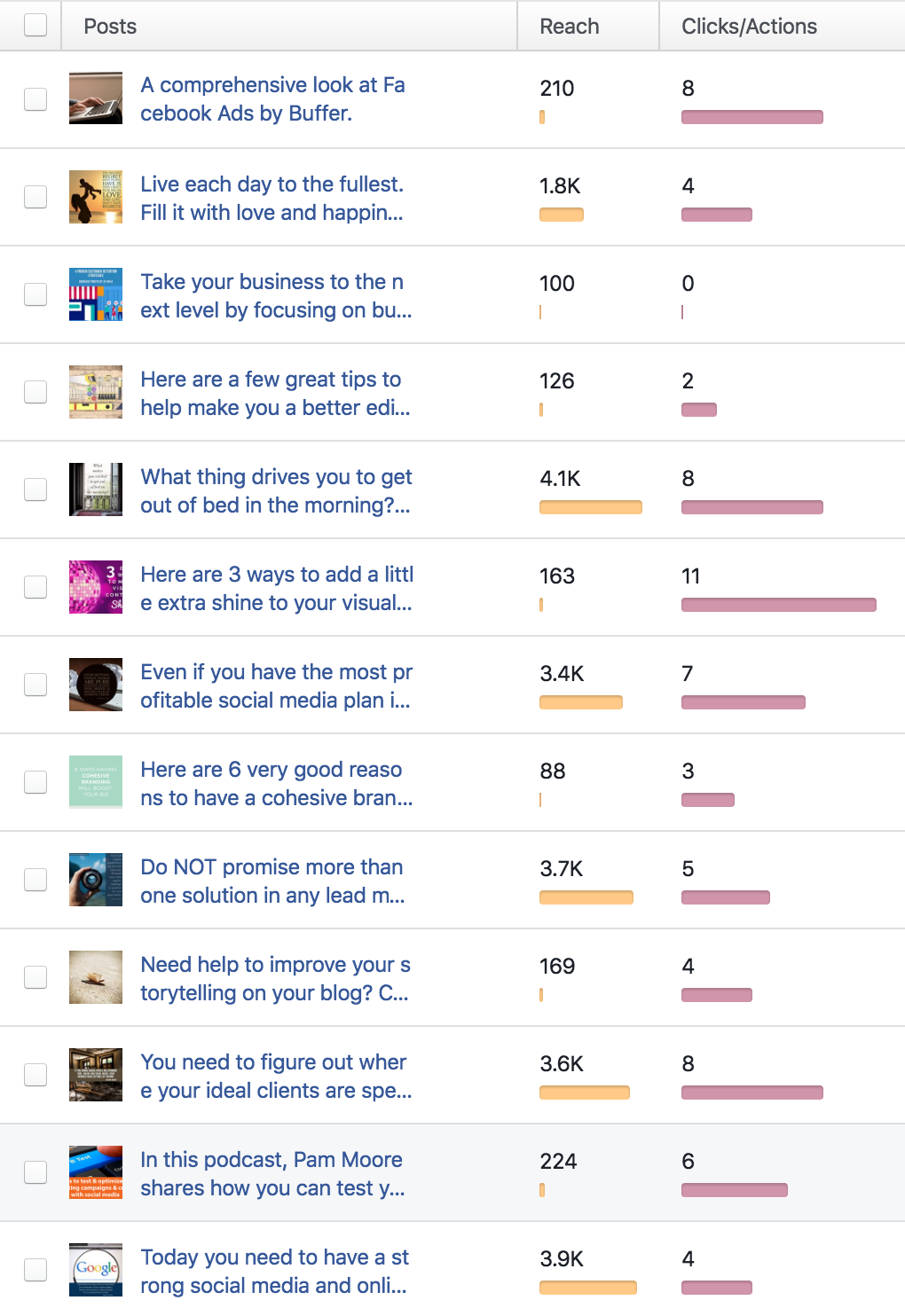 In your testing you might notice other trends such as that when you post too often you see engagement decline.
Use the information you find each month to improve your success and strategy.
Keep in mind that you may find that results vary wildly from season to season or are constantly changing. That is why you need to keep an eye out for new or changing trends as they will evolve as the platform does.
If you want to be successful with social media marketing, plan to be flexible enough to adapt as the platform and trends change.
Wrapping Up
Just by making these small changes to your social media marketing strategy and activities, you can greatly increase your efficiency, effectiveness and success.
Try implementing one change at a time and get comfortable with it before trying another, as this will increase your ability to successfully integrate each one into your daily/weekly activities.
What tips and tricks have you found most success with in your social media marketing? Share with us in the comments below.
Comments