8 Steps to an Effective Influencer Marketing Strategy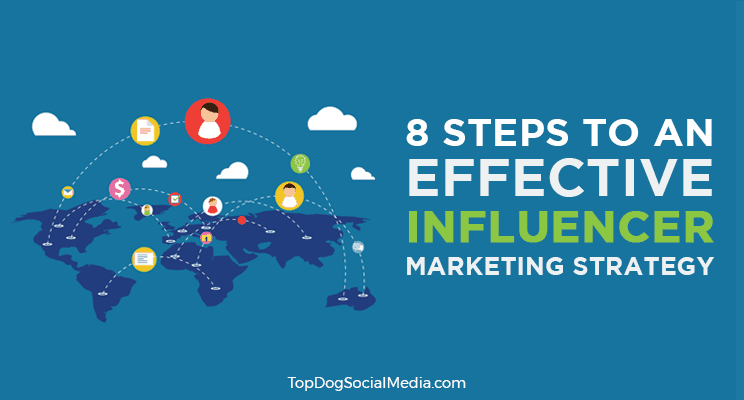 There are all kinds of people that you could consider influencers. For example, your best customers can be some of the best influencers and advocates of your products/services. However there are times when you want to widen your reach and get in front of a brand new audience to promote your brand.
Influencer marketing involves partnering with key individuals within your industry to promote your brand to their followers. If done correctly, influencer marketing can be a huge success and drive your brand's growth exponentially.
Here are eight specific steps that will improve success with your influencer marketing efforts.
8 Steps to Set Up Your Influencer Marketing Strategy
Set goals.
Before you start any new marketing campaign, it's important to set goals so you know how to measure your campaign's success. What are you hoping to get out of your influencer marketing campaign? For example, you may want to increase awareness of a new product or upcoming event, improve your website ranking, or increase followers on social media.
Define your ideal influencer.
Now that you know what you want to achieve with your campaign, it's time to define your ideal influencer.
Brands should look for people who are active on social media and have an authentic voice. Influencers should also be relevant to your brand. For example, if you are a cosmetic company, you would want to target beauty bloggers, not necessarily fitness fanatics.
As you search for influencers, remember not to make the mistake of assuming every person with a large follower count has a strong influence over their followers. Look at the likes and comments on each post to see how engaged the person's followers are. It's better to find an influencer with fewer followers, but higher engagement if you want your campaign to be a success.
Find influencers.
Next, begin to create a list of influencers that you would like to work with during this campaign. You can either find relevant influencers manually or by using a tool.
If you choose to do it manually, you can search for influencers using popular hashtags that are relevant to your business. However, it can be time-consuming to weed through thousands of different profiles until you find valuable influencers. To speed up the process, you may want to use a tool such as Traackr or Buzzsumo that is designed to help brands identify influencers.
Once you have a list, start to look at each of these influencers' social media profiles and websites to make sure that they fit the profile of your ideal influencer.
Initiate the conversation.
Look for a contact email address on each influencer's social media profiles and website. If you can't find an email address, log into your brand's social media account and message influencers. It's easier to have these conversations over email, so ask the influencer if there is an email address where you can connect with him/her about a business opportunity.
Negotiate with the influencer.
If you have the influencer's attention, begin to discuss the details of the deal.
How do you want the influencer to promote your product? How long will the post be live on social media? Then, ask what the influencer expects in return for promoting your product.
If you don't have a large budget for this campaign, you may be able to offer other incentives to the influencer, such as free products or promotion. Remember, nothing is set in stone.
Many of these influencers are mobile workers that rely on this income, so feel free to negotiate with influencers if you feel the deal they are suggesting is unfair. But, keep in mind that you probably will not be able to reach an agreement with every single influencer. Don't feel defeated if you have to cross a few off of your list and move on to the next ones.
Create content.
If you and the influencer have agreed upon the terms of a deal, begin to create the content for the promotion.
Are you doing a social media promotion? Typically, the brand will send the influencer products, the influencer will take a picture with the products, and send it the brand for approval. Then, the brand will send "talking points" for the influencer to touch on within the caption. For example, the brand may ask that the influencer mention a special discount they are offering on the product.
If you are creating content to place on the influencer's website, you will generally be responsible for writing 100% of the content, and the influencer will have final approval.
Promote, promote, promote.
Keep in touch with the influencer so you know when the content is live.
Then, promote the content through your social media pages, newsletter, and website. If the influencer ends up getting more views or clicks than usual because of your efforts to promote the collaboration, she will be more likely to work with you again in the future. In fact, you may even get a better deal on the next agreement if you have proven that working together is beneficial for you both.
Track its success.
It's important to track the success of every marketing campaign. Go back to the original goal you set for this campaign. Have you seen an increase in event registrations? Has your page ranking improved as a result of the collaboration? Do you have more social media followers? Answering these questions will help you determine if the campaign was a success.
If you are looking to create an influencer marketing strategy, you need to be willing to build real relationships with influencers. As in all business relationships you must approach it with a win-win outcome in mind. Just as you have goals for your business, so do they.
Have you considering implementing an influencer marketing strategy for your brand? Share your experiences below.
Nick Rojas is a self-taught, serial entrepreneur who's enjoyed success working with and consulting for startups. Using his journalism training, Nick writes for publications such as Entrepreneur, TechCrunch, and Yahoo. He concentrates on teaching small and medium-sized enterprises on how best to manage their social media marketing and define their branding objectives.
Comments