9 Rules That Apply To Social Media & Online Dating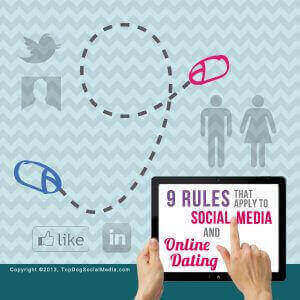 Have you ever wondered why attracting new prospects on social media is so difficult?
This might come as good news or bad news but it's actually not that far off from online dating and a surprising amount of similar rules apply.
It's actually quite funny how many similarities the two share. The dynamic can be equally awkward or feel totally natural depending on your approach.
Here are nine surprising similarities between social media marketing and online dating:
Scroll down for the entire article
1. You Need a Good Photo
It should come as no surprise that people prefer to see a face when doing business as it feels more credible and personal. Having a great picture does more than just present you better, it makes you more memorable so they start to recognize you when they see your face again.
The rule of 7 in advertising says people need to see something seven times before they remember it. Make sure what they are seeing is something you want them to remember.
Read my article on how to create a successful social media profile picture for more tips on this.
2. Have a Profile Description That Speaks To Who You Want To Attract
Just like attracting your perfect mate, you want to write your profile description so that it attracts your ideal customer and makes them want to reach out.
3. Don't Be Aggressive
Aggressive tactics won't just fail you at the bar, they will also never land you a sale with a prospect online. If you are too pushy, you'll just get a flat out "no" without a second thought. That's fine if you are trying to play the numbers game at a bar but it won't fly online if your intention is to attract new prospects and clients.
Slow down to speed up the sale and do everything you can to not approach the situation with a self-serving mentality; it always shows.
4. Are They Really Your "Type"? Be Picky!
Are you that person who always gets stuck with the bad ones? That happens in business and it usually comes down to the message you are conveying.
There's no sense rushing into a relationship, business or otherwise, if you know in your heart that you aren't truly a match and cannot provide value. Don't pretend to be someone you're not to close the sale or get a date because it's a setup for disappointment.
5. Expect Nothing From Your First Several Meetings
Just like you don't propose marriage on your first date, a little courtship is necessary to warm things up and build a business relationship that has the potential to move to the next level
6. It's Not Them, It's You
If you're attracting the wrong people, your messaging needs to be changed to attract the right audience. You'll need to revisit #2 if this becomes an issue for you as your profiles might be sending the wrong message.
7. Bad Grammar & Spelling Is A Turn Off
While some may assume bad grammar and spelling is a sign of a lack of intelligence most will agree it's evidence of carelessness. Nobody likes a lazy partner, business or otherwise. 😉
8. Common Courtesy & Thoughtfulness Go A Long Way
Nice guys don't finish last in business. They get remembered, esteemed and recommended by others for being pleasant to deal with. A lot of doors will open up for you when you are actively thinking about the interests of others with no selfish ulterior motive. Trust me when I say it comes back tenfold.
9. Never Drink & Text!
I believe that every status update after 9pm should require you to blow into a breathalyzer. When the party gets turned on, social media (and especially online dating) needs to get turned off!
Famous Last Words: Be Careful & Be Yourself
As you can see, the similarities between online dating and social media for business are not that different after all. It's important to relax and not overthink every move when dealing with anyone online. People are human beings so taking a mechanical approach to communicating with them online will never generate positive results for your business.
Which other ways do you think social media is similar to online dating? Let us know in the comments below.
Comments