The 5 E's of a LinkedIn Marketing Strategy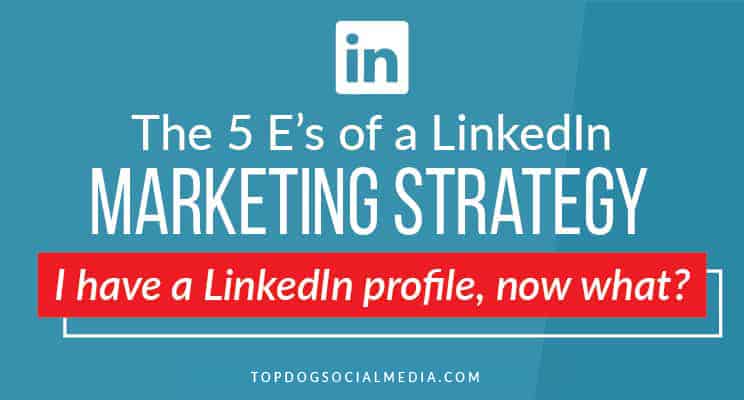 Many professionals, sales people, business owners and executives fall in to the trap of creating a LinkedIn profile and then never paying any attention to it.
In fact, if you are like many people, you might be thinking…
Or perhaps you're thinking…
"Now that my profile is complete, can't I just sit back and wait for prospects to come to me?"
Not at all.
The true value of LinkedIn lies not in how it might help you land a job in the future. It lies in its ability to help you:
generate more high-quality leads,
close more business deals,
expand your network by forming relationships with key decision-makers and
build your brand profile and authority.
Now is the time to start actively using your LinkedIn profile to generate more leads and prospects for your business. In other words, it's time to engage in social selling.
Consider the following LinkedIn statistics:
over 80% of all B2B leads generated by social media come from LinkedIn
90% of top performing sales people now use social media as part of their sales strategies
79% of B2B marketers say LinkedIn is an effective source for generating leads
Can you see what a powerful tool LinkedIn could be to help you generate more leads and sales for your business?
The key to making LinkedIn your personal lead generation success story comes down to what I call the "The 5 Essential E's of an Effective LinkedIn Marketing Strategy."
The five E's include:
Explore Opportunities
Expand Network
Engage Connections
Establish Relationships
Expert Positioning
In this article, I'll share with you the 5 E's in detail so you can capitalize on social selling on LinkedIn, form professional, profitable relationships with the right people and generate a steady flow of leads for your business.
The 5 Essential E's of an Effective LinkedIn Marketing Strategy
It pays to be strategic on LinkedIn. When you're starting out, first figure out who your ideal clients are, whom you'd like to reach out to and how you might do that.
LinkedIn makes it easy to discover and target the right people for your business. You can do it in three ways: 
use advanced search to find prospects
go deeper with Boolean search
review your contacts' connections
For in-depth information on LinkedIn search functions, read my articles on how to use  and go deeper with Boolean search.
You can also find many new opportunities by looking at the connections of your 1st-level LinkedIn connections – these are your 2nd-level connections.
To find your ideal prospects within your network, either use the advanced search or scroll through your connections' lists. Often, your prospects will be connected to people who will also be good prospects and clients.
Your connections' connections offer an additional opportunity for networking: to gain warm introductions.
Go to the profile of someone you know well enough to ask for an introduction. On their profile, click on the link to their list of connections, located below their headline and beside their location.
Their connection list will open in the advanced search.
Click All filters, located at the top, to narrow down the results. Here, you can use different filters to become super-specific about the types of prospects you want to find.
For example, I could add VP Sales in the Title field and then, selecting only 2nd-level connections, search for prospects with that title.
This would provide me with a targeted list of possible prospects that my 1st-level connection could introduce me to because they are their 1st-level connections.
Seeking introductions this way, through connections you already have, gives you credibility in the eye of your prospect because you cease to be some random person appearing in their inbox.
To learn more about how to use LinkedIn's advanced search click here.
Have you ever heard the theory that you're the average of the five people you spend the most time with?
It's as true on LinkedIn as in real life. Your network, and the value of the people in it, represents your business's net worth and the potential value you can unlock if you nurture relationships the right way.
It is super important to expand your network on LinkedIn. Doing so allows you to find and be found by a much larger audience and increase your opportunities for growth and lead generation. Here are some great ways to expand your network:
send personalized connection requests to prospects
connect with people you've recently met offline
join LinkedIn Groups containing your target market
connect with influencers and others with large networks
Once you have found a prospect you want to connect with, your next step is to send them a connection request. But do NOT send the default connection request. It comes across as impersonal and often won't get a response.
If you want to make the best first impression on LinkedIn, show the person you're reaching out to you've done your homework, and make your message about them. To do this well, you must review their profile to learn a little bit about them – as well as look them up elsewhere online to see if you can uncover relevant information about them – so that you can appropriately personalize your request.
Additional Reading: Why I Accept or Reject a LinkedIn Connection Request
This can be challenging, which is why I cover this in great detail in my book, LinkedIn Unlocked, and in my online LinkedIn training program, Cracking the LinkedIn Code 4.0.
Don't forget to connect with people you have recently met offline, sending them your personalized connection requests as soon as possible after meeting them and reminding them where you met.
Although LinkedIn Groups are not talked about much anymore, they have a place in your LinkedIn marketing strategy. Because most people join groups only related to their industries, those groups are full of competitors. The real opportunity lies in expanding your network by joining groups your ideal clients belong to – even if they are not active in them.
You can join up to 100 different groups. Most of the groups you join should be the groups your clients belong to. One of the biggest reasons for this is when you search for prospects (or your prospects search for someone who does what you do), you will find people only in your 1st, 2nd and 3rd-level networks or if they belong to the same group.
LinkedIn is not a place for wallflowers, so merely growing your network is not enough.
The people and businesses who actively engage on a regular basis are the ones who generate the most leads, clients and sales.
It is crucial you engage with your connections and prospects so you can build rapport with them. Engaging with them on LinkedIn helps you get and stay on their radars as well as subtly position you as someone who can help solve their problems. If you do this consistently, when these people are ready to buy or know someone who is, they'll think of you.
Some great ways to engage your new connections include:
engaging in conversation after connecting through a private message
commenting on their status updates and articles
sharing their content when appropriate
A great first step is to begin a conversation with someone after they have accepted your connection request. You can thank them for connecting and perhaps ask a question about them, their business, or their recent LinkedIn post, inspiring further dialogue.
The key here is to get a conversation going to get to know your connections.
Whatever you do, do not send anything that could be perceived as a sales pitch in these messages. This will turn people off and will not be effective.
Your goal should be warming up a cold connection. If you push for the sale too early in the relationship, you will lose them forever.
On LinkedIn, patience is a virtue.
Additional Reading: How I Respond to Inappropriate and Spammy LinkedIn Messages
4. Establish relationships
A vital part of your LinkedIn marketing strategy includes establishing relationships with your connections.
I cannot stress enough the importance of building relationships with your prospects. People buy from people they know, like and trust, and the only way to get to that place is to show genuine interest in them.
There are many ways to begin establishing relationships on LinkedIn:
show interest in your connections by learning what's important to them
pay attention to the content your connections share, and engage when appropriate
always engage with those who like, comment on and share your content
be a connector and introduce your connections to each other
It's also important to reply in a timely fashion to any messages your connections send you.
Additional Reading: How to Use LinkedIn for Lead Generation
The final step of your LinkedIn marketing strategy involves establishing your authority on your topic, which will significantly build up the know, like and trust factor with your connections and prospects.
How do you build your authority on your topic? You do this by:
providing valuable content
sharing content consistently
Providing content your prospects derive value from – content that directly addresses their problems or challenges – is the best way to help position you as an expert and as the solution to their problems.
This includes sharing both content you have created and content others have written – curated content. 
Sharing valuable content increases both your authority and visibility on LinkedIn and can strengthen your relationships with your prospects.
When deciding the type of content you should share with your prospects, consider these questions:
What are they interested in?
What is important to them?
What problems do they face?
The answers to these questions will give you great ideas to start producing content your prospects need and want.
Just as significant as what you share is the consistency of your sharing. If you share content only once in a while, randomly, you will fail to create the same level of authority or trust as a consistent content creator will.
This is why it is so important to complement your LinkedIn strategy with a content marketing strategy.
Wrapping up your LinkedIn marketing strategy
By following the LinkedIn marketing strategy I have laid out in this article, you can create a lead generation plan that will help bring in more leads and sales for your business.
Each of the five steps consists of the highest leveraging activities you can do on LinkedIn, producing consistent and reliable results. They are also most important when building relationships – a vital part of a successful business today.
I would like to leave you with two more pieces of advice.
Avoid making these two mistakes that can halt your progress:
Mistake #1: Rushing the process and going right into a sales pitch.
Mistake #2: Never moving the conversation offline or moving this process too slowly.
While you want to avoid rushing the relationship-building process and diving right into a sales pitch, your goal should be to move the conversation offline because most B2B sales happen offline. To get to that point, however, you need to get your prospects to know, like and trust you first.
If you would like to learn more about how to get results from LinkedIn, I invite you to watch my free masterclass: The Ultimate LinkedIn Lead Generation System. You can register for it here.
Get a free checklist to increase your LinkedIn Social Selling Index and attract more leads and clients. 
Along with the SSI checklist, you'll get a list of free resources that will help you elevate your personal brand, attract clients on-demand and increase your visibility on LinkedIn.
Comments