7 Shortcuts to Become an Industry Leader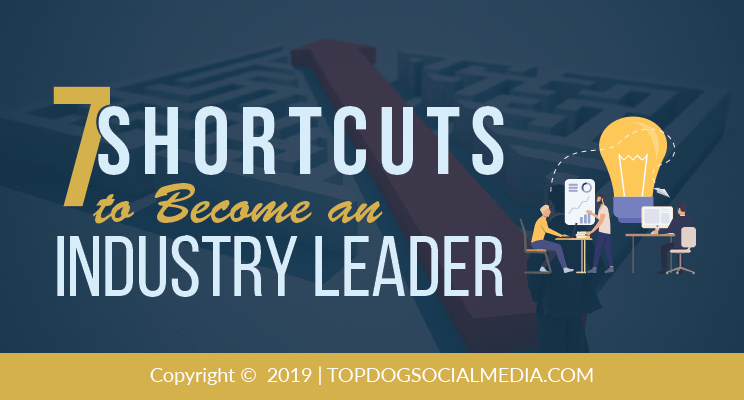 Would you like to get more leads and sales through your online presence?
Or maybe you want to establish your authority on your topic?
If you want to increase your credibility, boost sales and have a steady stream of clients, you need to be seen as an industry leader.
One of the most crucial factors in becoming an industry leader is to have a professional and consistent brand presence. It applies to both yourself and all the materials you produce. It is also absolutely vital that your ideal clients derive value from the content you provide.
If you have been wondering how to become an industry leader, read this article.
Below, I share seven effective methods you can use to increase your authority on your topic, build trust with your ideal clients and be seen as an industry leader.
How to Become an Industry Leader
1. Publish high-quality content on your blog
There is no better way to showcase your expertise and position yourself as an authority than creating and publishing valuable content on your blog that solves a challenge or problem for your ideal clients. This allows you to move beyond just someone trying to sell something and become a trusted authority on your topic.
It takes time and work to build authority, credibility and trust with your blog content, but the benefits will be worth the investment.
One of the biggest benefits of becoming a trusted authority and industry leader is being the first choice for your prospects when they look for solutions to their problem(s). This is because they begin to know, like and trust you as you have demonstrated your expertise, proving you can help them solve their challenges.
The content you create for your blog can take many forms. It can be written, audio, video or graphic. Whatever type of content you create, the key is to create and publish it consistently, be it weekly, bi-weekly or monthly. Being consistent also helps you establish trust with the people reading your blog.
2. Get active on LinkedIn
LinkedIn is the world's largest professional network with over 610 million users in more than 200 countries and territories worldwide. (Source)
This makes it an excellent platform to help you establish your credibility as an industry leader.
The LinkedIn platform offers you the opportunity to connect with your ideal clients online and gain credibility by sharing content that is of value to them. You can do that through:
posting status updates
sharing articles on LinkedIn Publisher
contributing with your opinion and expertise to relevant conversations.
If you offer a B2B product or service, you need to make LinkedIn a priority. Follow me on LinkedIn, where I consistently share LinkedIn tips and best practices.
3. Provide free resources (lead magnets)
An excellent way to help establish your authority on your topic is to offer your ideal clients a free resource that solves one specific problem or challenge they have identified. Think about the conversations you've had with prospects and past and current clients.
Create your resource based on a specific problem or challenge they've talked about. Show you understand their problem, and offer a solution.
A secondary benefit to offering a free resource is providing an incentive to sign up for your email list. Instead of just asking people to sign up for your newsletter, offer them something they would be willing to give their email addresses to obtain.
Your lead magnets will be more successful if they have enticing names.
For example, on my website, I offer a guide called the LinkedIn Lead Generation Machine. I also offer a free masterclass called How to Turn Cold LinkedIn Connections into Clients.
Both of these resources provide value, and people are subscribing to my email list to get them. It's a win-win situation!
4. Start a community (online or offline)
Starting your own community through a group on LinkedIn or Facebook helps establish you as a thought leader and industry influencer. If you do business within a local region, you could start your own Meetup group.
Regardless of the platform and whether it's online or offline, the goal of your group should be to create an environment for your ideal clients to network, share information and gain valuable resources. 
Running a group has several key benefits. The most obvious one is that you'll have a group filled with your ideal clients, which can make it easier to connect and build relationships with them.
But perhaps even more powerful is your ability to establish your credibility and authority as the group leader with your members by consistently sharing valuable resources and starting or engaging in relevant conversations.
Facebook groups are also a great way to build a community. Since Facebook is widely used and most people already belong to one or more Facebook groups, it can be fairly easy to get your ideal clients to join your Facebook group.
5. Write a book for expert positioning
Blog posts and lead magnets have their place in your marketing strategy. However, writing a book is an incredibly effective way to step outside the box and position yourself as a leading authority on your topic. Authors are perceived as instant subject matter experts, which can attract media attention, impress clients and prospects and create opportunities for speaking engagements.
Writing books has opened many doors for me and elevated my expert positioning. In fact, my last book, LinkedIn Unlocked, became a #1 bestseller in seven countries.
6. Host webinars, livestreams and workshops
Webinars and workshops are a highly effective way to:
showcase your expertise,
provide value to your ideal clients and
create content that can be used repeatedly to increase your visibility. 
Live webinars are an excellent way to engage and have conversations with your ideal clients, no matter where they live, in real time.
Webinars are also a great place to ask your ideal clients what is important to them and what challenges they currently experience. They are also a fantastic place to get feedback on the content and training materials you have already created.
Consider also providing evergreen webinars (pre-recorded webinars), which are ideal for those who want to attend when it fits their schedules.
And don't forget about offline marketing channels such as live events and workshops. They create a powerful experience for attendees, helping build a sense of connection and establish trust through face-to-face interactions.
7. Collaborate with other industry leaders
One of the fastest ways to establish your credibility as an industry leader is to collaborate with others. This allows you to leverage the third-party credibility that comes from being recommended by others.
As you begin to build your authority, you will be seen and recognized by others, possibly even influencers in your industry. When this happens, you may be provided with different opportunities for collaboration, which will allow you to get in front of new audiences.
For example, if you are creating high-value content, you may be asked to contribute articles to industry publications, be a guest blogger on a well-known blog, or be interviewed on a webinar or podcast.
You can create collaboration opportunities with other professionals or influencers who provide complementary products or services by building relationships with them.
Collaborative opportunities can take many forms, including:
Strategic Alliance: two or more people/companies working together to pursue an agreed upon goal while remaining independent of each other. For example, you may collaborate with another expert to co-run a podcast, develop a training program or create a live streaming show.
Joint Venture Partner (JVP): two or more people/companies coming together to form a temporary partnership to complete a specific event or project. For example, a group of related experts may get together to run an online summit or conference, or share their programs with their partners' email lists (affiliate relationship), earning affiliate commissions from sales.
Referral Partner: two people/companies forming an agreement to send relevant leads to each other because they offer complementary services to similar audiences. For example, if you're a business coach, you might set up a referral partnership with a marketing consultant.
Become an industry leader in the eyes of your ideal clients
No one becomes an expert or authority overnight. 
The secret to becoming an industry leader is to:
have a consistent and professional online presence,
provide high-quality content and
Are you tired of being the best kept secret and ready to become an industry leader? Start with a couple of the methods mentioned in this article, and add more when you are ready. It's your time!
Comments