Big Changes To LinkedIn Groups: The Good, Bad & Ugly
Have you noticed the massive changes to LinkedIn groups?
Do you own your own LinkedIn group?
You will want to check out the recent changes as they affect both group members and those who own their own LinkedIn group.
Like LinkedIn's Message Center, LinkedIn Groups has recently gotten a facelift. Its look and set up have completely changed as well as a couple of features, making it more visually appealing and easier to navigate. There are some deeper changes though and not all for the better, which I will explain in more detail shortly.
Here is a review of the latest changes to LinkedIn Groups.
LinkedIn Groups Home Page
Besides the clean bright new look of the LinkedIn Groups home page, they have also improved the ease of navigation and added a couple of features which I think are meant to help improve waning engagement within groups.
At the top of the page, is the colored Highlight Bar, which remains constant throughout all group pages. In the Highlight Bar there a number of navigational options. By clicking the redesigned group icon in the top left corner, you can quickly and easily go back to the Groups homepage.
When you click on My Groups it opens a dropdown of all the groups that you are a member of or own. You can scroll through the list of Groups or do a search for one in particular in the top search bar. Note that it will only bring up groups you own. This is also where you will find the Create group button.
Clicking Discover will open a page with suggestions of Groups to join from LinkedIn. For each group suggested you get an overview that includes the name, logo, number of members, group description, a list of members you are connected to and the ability to choose either Not interested or Ask to Join.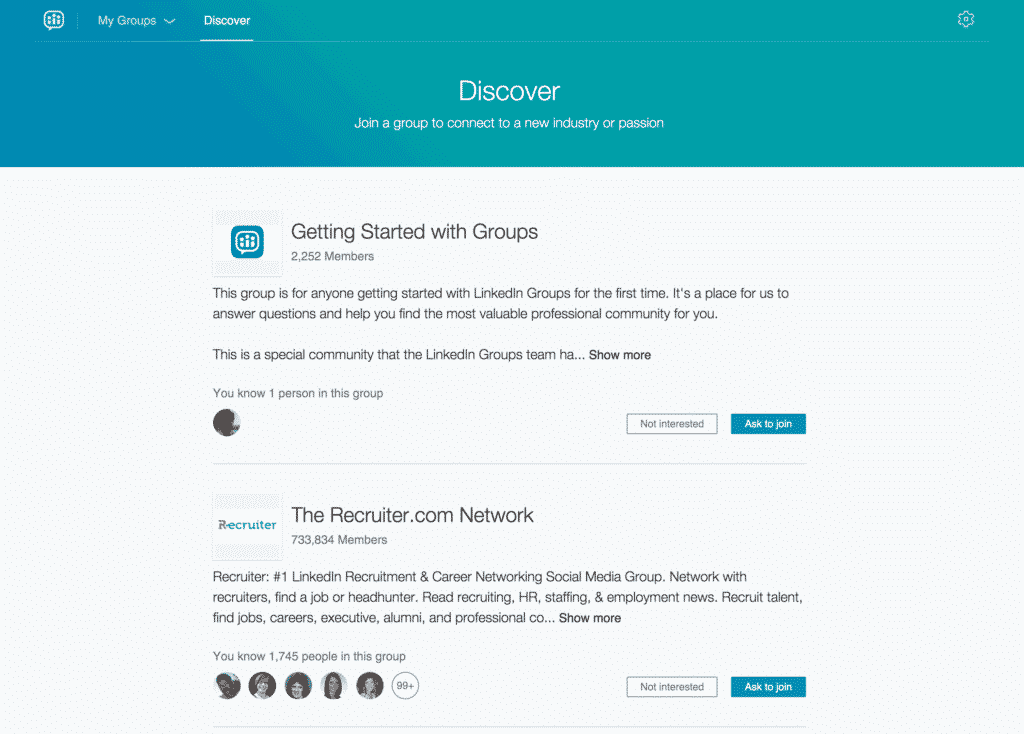 On the far right corner of the Highlight Bar is a cog wheel icon. Clicking this icon will open the page which allows you to reorder your groups in a way that best suits you.
Below the Highlight Bar is where you will find the two main home page features. On the left side, in large, eye grabbing boxes is a newsfeed with a mix of posts from the various groups you belong to. Meant to grab your attention and encourage your interaction, these boxes make it easy for you to quickly scan through them for content that interests you.
On the right side is the Your Most Active Groups feature. Here you will find a list of up to five of the most active groups you belong to with the number of new conversation that have been started that day. This can be helpful when deciding which groups to focus your attention on, depending on your goals.
If a group has many conversations going then it means people are actively using the group. But the opposite can also be true, as a group with hundreds of active conversations every day can mean that the group isn't being moderated to keep out the spam or lots of people are posting content and no one is actually engaging with anything because of the sheer volume of posts.
LinkedIn Groups You Belong To
LinkedIn has done something special with the Highlight Bar at the top of every Group. It seems that they have added smart software, which scans your logo image and looks at the most dominant color and then pairs it with the closest version of that color they have. See the examples below.
You will notice that each group page also largely resembles the main LinkedIn Groups homepage.
In the top right corner beside the cog wheel icon is the Search Bar. Type your search in and hit enter to perform a search.
This will bring up the search results page. Unfortunately, at this time, it seems as if the majority of the search function within groups has been removed. When you do a keyword search now nothing will show up unless that keyword is in the title or description of a post.  This means if you are searching for a specific name or for example, group members who are a VP of Sales, you can no longer do this within the group search. You will have to do these searches within the Advanced Search feature.
You can also see a number of group members located just below the group name. You can click this to go to a page with a list of members. This feature has also become less functional. To keep expanding the list of members, you must keep scrolling down until you find the right person. If there are hundreds of thousands of members, this simply isn't practical.
While you can't send a connection request directly to a group member from this page (which is good so you go to their profile and send them a personalized connection request), you can still send free messages (up to the limit of 15/month) to fellow group members. Simply hover over their name and an envelope icon will be visible.
Click the icon and this will open your LinkedIn Message Center, where you can send them a message.
As well as members, you can see the Pending option. In this area you can view and "Accept" Pending group members. From what I can tell, I am able to view and accept pending members from any group I belong to. This makes absolutely no sense if this is universally true (which it appears to be at this moment) and I found no way as a group owner to turn this off.
This may be LinkedIn's way to encourage Group owners to go through their Pending requests in a timely manner or one of your group members will and you may not like the results. My advice is to keep on top of any pending requests if you own a group.
You can also see an official list of the group Admins under the Admin option.
Back on your main group page, below the Highlight Bar is the new posting box and the newsfeed on the left side.  You can choose from posting a conversation or job. When starting a conversation there is place for your to specifically enter your conversation title and then the details or description below. You can also add an image by clicking the photo icon.
If you want to share a link, you add the link directly into the detail area. Once the thumbnail and description box appear, you can remove the link. You may have to give it a few seconds, as I noticed it is slow to load.
The group description, a link to the group rules and a list of group members is shown on the right side. You will also see a prominent Invite button, where you can invite others to join the group. Simply type in their name and select the correct person from the list.
LinkedIn Groups You Don't Belong To
The page for groups you don't belong to is very similar to those you do with the exception that the newsfeed is replaced by two lists. The first is a list of the group Admins and the second is a list of Your Connections who are also members of that group. You can request to Join the group on this page or see any active invitations that you have to the group.
Your LinkedIn Groups
Similar to the other group pages, there are only a couple of differences on the group pages you own. To manage your group, simply click the Manage button located under the Highlight Bar on the right.
The other main difference on your own group page will be to moderate posts directly within the newsfeed. To access the options available, click the three dots in the right corner. From here you can choose to Delete, Feature or Move to Jobs. Everyone has the option to Reply privately.
I hope this overview helps you to navigate the changes to LinkedIn Groups with ease. What do you think of the changes? Did I miss any? Let me know in the comments below.
Comments