Content Marketing Roadmap: The B2B Buyer's Journey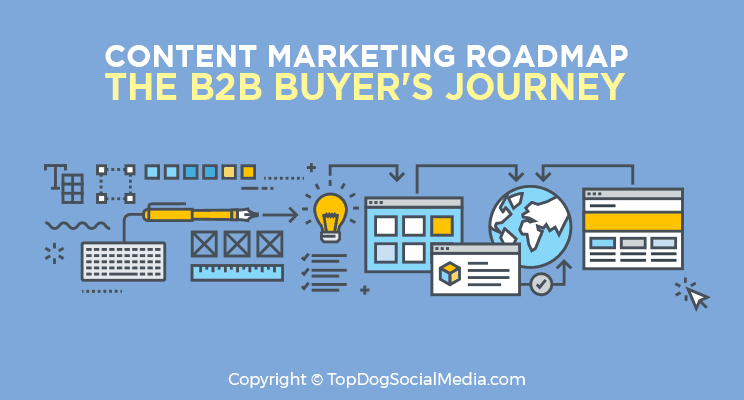 I am sure you've heard this a million times. Content is king.
Most businesses have realized the importance of having content at the core of their business.
Content marketing is not a fad, it's here to stay.
The internet and social networks have completely changed the sales process. The modern buyer has access to more information than ever before. For example:
90% of customer buying decisions start online (Forrester)
75% of B2B buyers use social media to research vendors (IDC)
As a consequence, companies need to provide helpful online content and information, to build trust and credibility and to become a part of the buyer's journey in selecting a product or service. This approach is frequently referred to as social selling and it doesn't work without a healthy dose of content marketing.
In both B2B and B2C, buyers prefer getting all the information they need to make an educated decision. If this is the case, how can businesses and marketers such as yourself provide just the right kind of support they need, without being too salesy?
The answer lies in a simple C-word: Content.
The crucial role of content marketing in B2B
With high-quality and informative content, today's careful and perceptive B2B buyers are able to learn about possible solutions to their existing problems, compare and contrast the different options, and finally decide on a solution.
As a marketer, the responsibility falls upon your shoulders to ensure that a solid content marketing strategy is in place to capture the interest of potential buyers. However, it's not as simple as bombarding your target audience with articles or free whitepapers.
So now, the question is: How do you know which kind of content to provide to which members of your B2B target market?
It's simple. Know and understand the buyer's journey.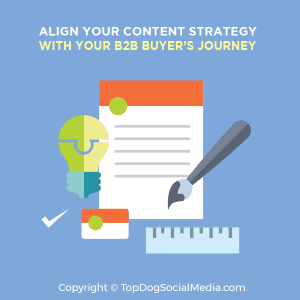 Align your content strategy with your B2B buyer's journey
Let us first define what a buyer's journey is.
The buyer's journey is:
For the marketer: a simple, structured guide that shows you the different stages the potential buyer finds himself or herself in, depending on his or her level of knowledge and need at any given moment.
In respect to a customer: it is the process from awareness to decision that a buyer goes through. It starts with him or her discovering your content available on the web while browsing for something they want to purchase.
The buyer's journey is a model — your guide to knowing what your prospective buyer needs to move closer towards a sale, and when it's needed.
Did you know that 84% of marketing executives recognize the importance of developing a process in mapping content to match the right stages of the buyer's journey? With that in mind, here's what you should do:
You must acknowledge that specific content offers tend to have a more profound impact on consumers' buying behavior at certain points in the buyer's journey than others do.
Have a clearer idea of why it's important to rethink your content marketing strategy Over half of U.S. email users unsubscribe from a business newsletter. The reason…they no longer feel that the content they're seeing is relevant to them.
You need to segment your customers according to their personas. People have different backgrounds, different beliefs, different wants and needs, different buying behaviors.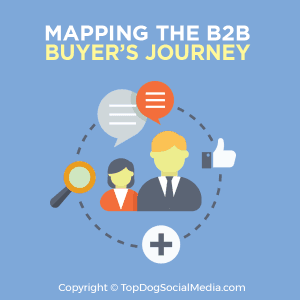 Mapping the B2B buyer's journey
Every B2B buyer's journey starts with a problem. That's what will prompt them to find a solution in the first place. We call this a pain point, and it may be experienced by an individual or an entire company.
This is where the search for a solution begins. The person or company suffering from the problem starts to look for as much content as possible to figure out the different solutions available. After taking a look at the advantages and disadvantages presented by each potential solution, the time finally decide on which one would work best for their specific needs.
You need to be aware of some of the content marketing basics for the B2B buyer's journey:
These B2B buyers would be in search of content from credible sources and subject matter experts.
Your role as a content creator is to ensure that the information you provide for them at that stage in their journey is exactly what they need to understand so they can make the right choice.
The stages of the B2B buyer's journey, from a content creator's perspective.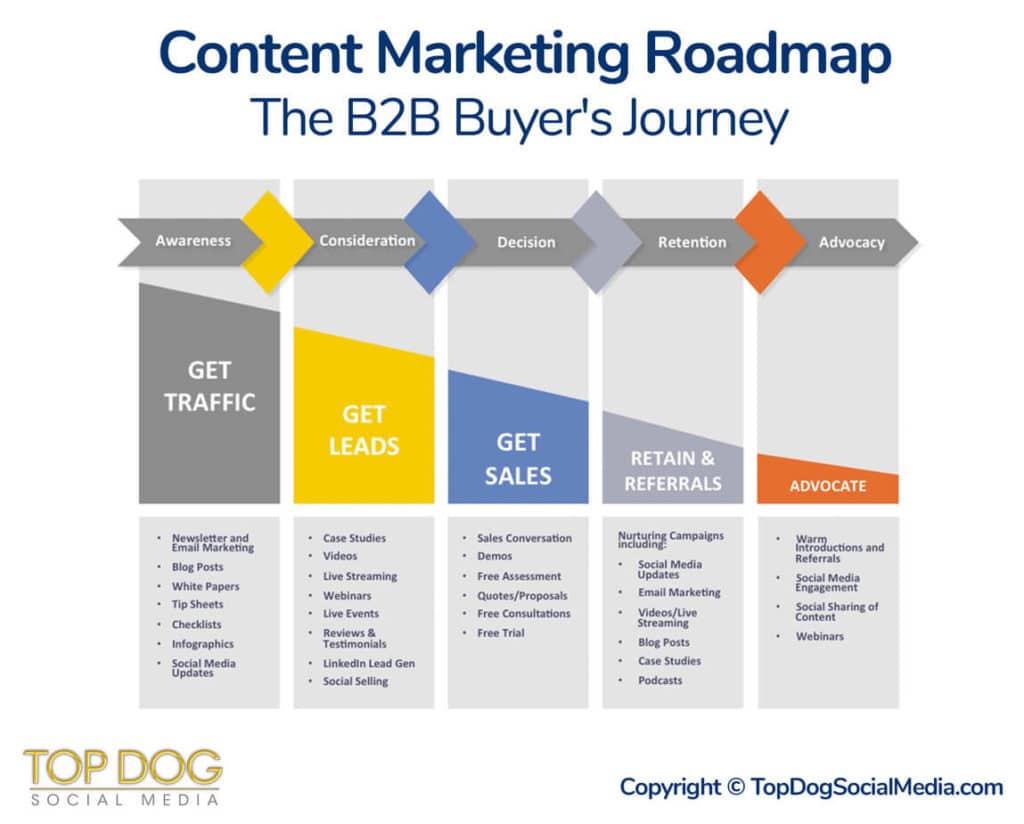 Above you will see a framework that you can use to guide your content marketing efforts, based on your objectives at each stage:
The Awareness Stage: Use content marketing to get noticed and obtain web traffic.
The first stage of the buyer's journey involves getting people to see and read your content.
The people you want to attract are looking for answers, so naturally, the kind of content you should provide at this stage must be focused on that. Your goal here is to inform them about their problems and the best ways to solve them, and with a bit of research, you'll be in the best position to address that need.
The relevant types of content for the awareness stage are:
Newsletters and email marketing: Keep in touch regularly with your subscribers with newsletters and email marketing campaigns.
White papers: Pull out all of your expertise and convert them into well-written and compelling white papers.
Blog posts: Blog posts are also helpful at this stage, because they're easily digestible and can be informative at the same time.
Checklists and tip sheets: Other types of content that work well at this stage are checklists and tip sheets.
Infographics: Visual content like infographics are excellent choices for effective dissemination of information.
Social media updates: You can also use social media updates with links to your content to generate traffic and awareness.
Remember though, that the ideal approach here is to offer these resources for free. You'd be hard pressed to find people willing to pay you for information that they can just as easily get anywhere else. Set aside that financial goal for now, and focus on the fact that your objective is to inform and assist, not make a profit from the get-go.
The Consideration Stage: Develop a content marketing strategy for getting leads and keeping them.
I've never met a sales person, business owner or company executive whose top priority didn't revolve around obtaining leads and sales.
These are the most crucial things at this stage.
When you reach this part of the B2B buyer's journey, engagement becomes a more critical component.
You need to infuse your content with opportunities to reach out and engage with your audience on a more personal level.
Companies who rethink their lead generation strategy thoroughly enjoy a significantly higher response rate compared to those who don't — up to 10 times higher.
So, what kind of content should you be putting out at this stage?
The potential buyers at this stage already know what you can offer them to address their pain points — your goal now is to build your credibility further.
The relevant types of content for the consideration stage are:
Webinars, live streaming and live events: These are a popular way to demonstrate your expertise on a particular subject.
Case studies: You can also publish case studies that talk about the benefits that working with you can offer, or even an objective comparison between you and your competitors to show them what makes you unique — and ultimately select you as a possible solution.
Reviews and testimonials: You can also use reviews and testimonials to demonstrate social proof, enhancing your credibility to potential buyers.
Social selling: You can incorporate social selling at this stage to gain further interest from potential buyers.
LinkedIn lead generation: LinkedIn is also particularly useful at this stage to generate leads.
The Decision Stage: Focus your content strategy on getting sales.
This is the selling point — the part you've been carefully building up to with all your content offers. If you set things up in the earlier stages, you should be reaping the benefits now.
One thing to remember is that you have to be patient. These days, most prospective buyers need to get through three out of five stages before they even start thinking that they're ready to buy.
In this stage, all of those offers can be put to good use. The relevant types of content for the decision stage are:
Free trial, consultations, assessment, quotes/proposals and demos: You can share free trials and demos with them, invite them to request a quote from you, or even offer free consultations to get them moving along on their journey.
Sales conversation: At this stage, you can also get on the phone or meet in person to have a conversation to discuss how your solution will solve the buyers problem and increase their confidence in your product or service.
The Retention stage: Incorporate retention & referrals into your content marketing strategy.
After making a sale, don't leave your customer behind. This is the stage where you need to be present for them. This is the perfect time to make them feel that they are an important part of your community.
The relevant types of content for the retention stage are:
Email marketing: Implement email campaigns that get them acquainted with your other products and continue to educate and nurture them.
Social media updates: Develop a consistent social media management strategy.
Live streaming and videos: Send them emails announcing when you're doing some live streaming or you've uploaded a new video.
Blog posts: Publish a new blog post at least once a week.
Case studies: Organize case studies and make sure they are up-to-date.
Podcasts: Podcasts are also a great way to create a voice for your brand that your customers can listen to.
The Advocacy Stage: Develop your loyal customers into brand advocates.
To get repeat business, nothing beats the magic of referrals.
To gain advocates for your brand, these are relevant types of content for the advocacy stage are:
Warm introductions and referrals: Maintain relationships with your customers and notice who they are connected to. The third party credibility you get from receiving a warm introduction goes a long way in accelerating the sales process.
Social media engagement: Watch what your customers and prospects post online, don't miss an opportunity to like, comment or share their posts when relevant.
Social sharing of content: Make sure that your content is easily shareable. Add social sharing options to your website and all other content.
Webinars: Continue to add value to your existing customers by offering an educational webinar series and allow them to invite others to it.
Ultimately, remember that the buyer's journey is a step-by-step process that requires more than just a one-size-fits-all content marketing strategy. When it comes to planning and creating content, putting in that extra effort to offer exactly what your audience needs will make all the difference.
If you're considering hiring a content marketing agency to help you with your content strategy, get in touch with us. We'd be happy to discuss with you how you can ramp up your content marketing plan to meet your buyers at every step of their journey.
Comments