How to Never Run Out of Social Media Content Ideas
Do you often draw a blank when thinking about what social media content to create and share?
Effective content marketing can be challenging, especially when you feel you are tapped out of content ideas when posting on LinkedIn, Twitter, Facebook or any other social network.
Whether you curate content or write your own, with these tips, you can keep new ideas flowing to ensure you always share fresh, relevant and interesting content to your audience.
10 Tips to Create Interesting Social Media Content
1. Frequently asked questions from your prospects and clients
The best source of social media content you have are the questions your leads, prospects and clients ask.  These questions directly reflect the current needs and challenges your target market has.
Addressing or providing a solution for one of those challenges will ensure you are creating content your market is looking for and eager to consume. You can even create a content series based on a single topic.
Ninja Tip: Create a document to keep track of questions your prospective or existing clients ask you. Make a note of the most commonly asked questions – this content will be in highest demand.
3. Check out Google News search
Google search is fantastic, but Google News search is particularly powerful, specifically for finding compelling, relevant and current content ideas.
Here are two particularly helpful types of Google News search:
a. Basic keywords search.
Search using relevant to your target market basic keywords (e.g., if you target logistics companies, you can search the term logistics).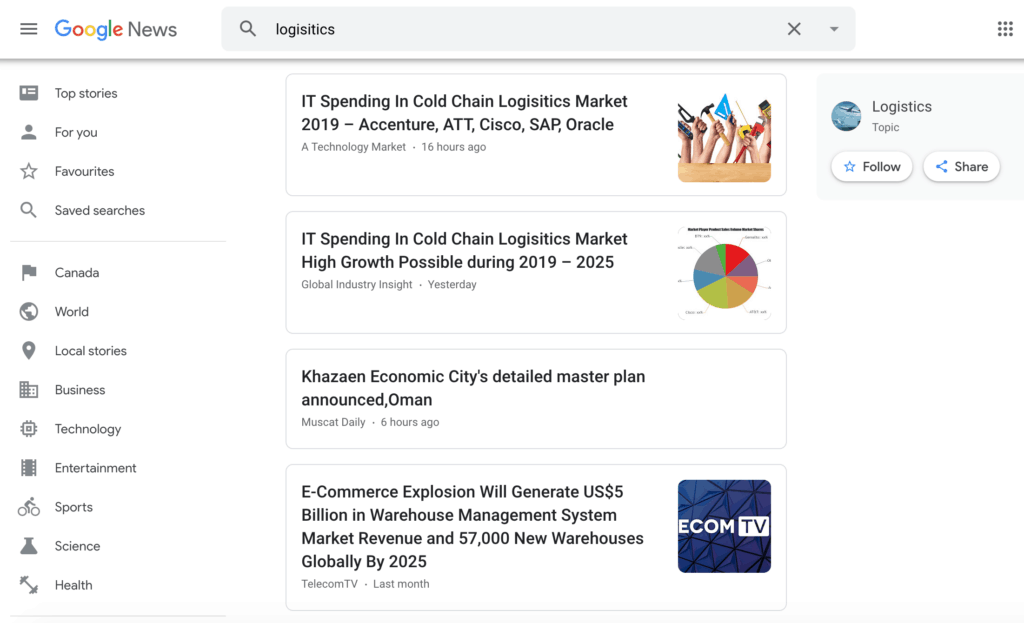 b. Geography-related search.
Local businesses can benefit from searching for content relevant to their regions as well as topics of interest to their target market (e.g., if you live in Amsterdam and target technology companies, you can search the term Amsterdam technology).
4. Use Twitter lists for social media content ideas
Your Twitter newsfeed can become overwhelming once you start following thousands of people.
How do you stay in touch with people, companies, organization and influencers that matter most to you?
Twitter lists are the answer!
Twitter lists are a great way to curate content. They give you a snapshot of the most recent tweets from a group of people, companies or organizations you handpick.
Here are three ways you can use Twitter lists to curate content and topics that your network will be interested in:
watch influencers in your industry, and share their content

keep track of people who share your content

review accounts of major news sources in your industry, and share their content.
5. Search #hashtags for content ideas
Searching with hashtags is a handy way to find content on topics of value or interest to your target market.
Search on social platforms such as Facebook, Instagram, LinkedIn and Twitter for your topic by simply adding a # (hashtag) before your keyword(s).
If you are a B2B business or looking for more professional or business-related topics, use LinkedIn to do your hashtag searches.
6. Check out the free keyword research tools
Once you know the general topics or keywords your target audience is most interested in, you can search for individual topics and specific keywords you can create social media content for, using one of the free (or paid) keyword tools.
Some tools will provide you with only a basic list of keywords or topics unless you pay for their premium plans, which can include a variety of other useful data and features.
But in most cases, the basic keyword lists are all you need to inspire new social media content ideas your community is interested in.
Examples of these tools include:
7. Analyze competitor content with BuzzSumo
A handy tool to find both curated content you can share as well as ideas for new topics to write about is BuzzSumo.
This tool allows you to find the best-performing content on any topic as well as content working for your competitors.
Analyzing your competitors' content can provide great insight into popular topics your target market is interested in. It can also show you the topics your competitors may have skimmed over – topics you can write in greater detail about or issues you can provide a more complete solution for.
8. Set up an RSS feed with Feedly
Feedly is an excellent tool to quickly and easily review posts from your favorite RSS feeds (websites) as well as to search through the feeds you create with keywords (a paid feature).
This tool allows you to create lists of websites to follow so you can stay up to date on your industry, new trends and, of course, the keywords related to the topics of high interest to your target market. You will find both content suggestions to create new content as well as valuable content you can share with your community.
9. Make your old content new again
If you have been doing content marketing for a while now, you should consider updating your old, out-of-date content.
Quite often, old topics are still important to your target market. They just need to be updated to be fresh and relevant again.
Use Google Analytics or other analytic software to see what old content pages are still being consumed. Filter by the last month, year or several years to see what old content pages are still getting good traffic and would benefit from an update.
10. Take advantage of seasonal topics
Take advantage of holidays or special anniversaries of major world events to create or curate content on social media.
This can make an excellent supplement to the other content you share, although you would do this only occasionally. For the biggest impact, find out which holidays or world events are of greatest interest to your target market.
Note: when creating social media content based on seasonal topics, avoid posting anything controversial or polarizing as this can harm your personal brand.
Your social media content must include your perspective
Whether you are creating your own social media content or curating others' content, be sure to include your personal opinion or perspective.
This is vital as it is YOUR perspective that will make the content you share unique and original. Your personal contributions will also help people get to know, like and trust you, increasing your credibility. Such credibility is essential to your success as people buy from people they know, like and trust.
Where do you go to find social media content ideas? Let me know in the comments below.
Comments