How to Create Social Media Management Plan That Produces Results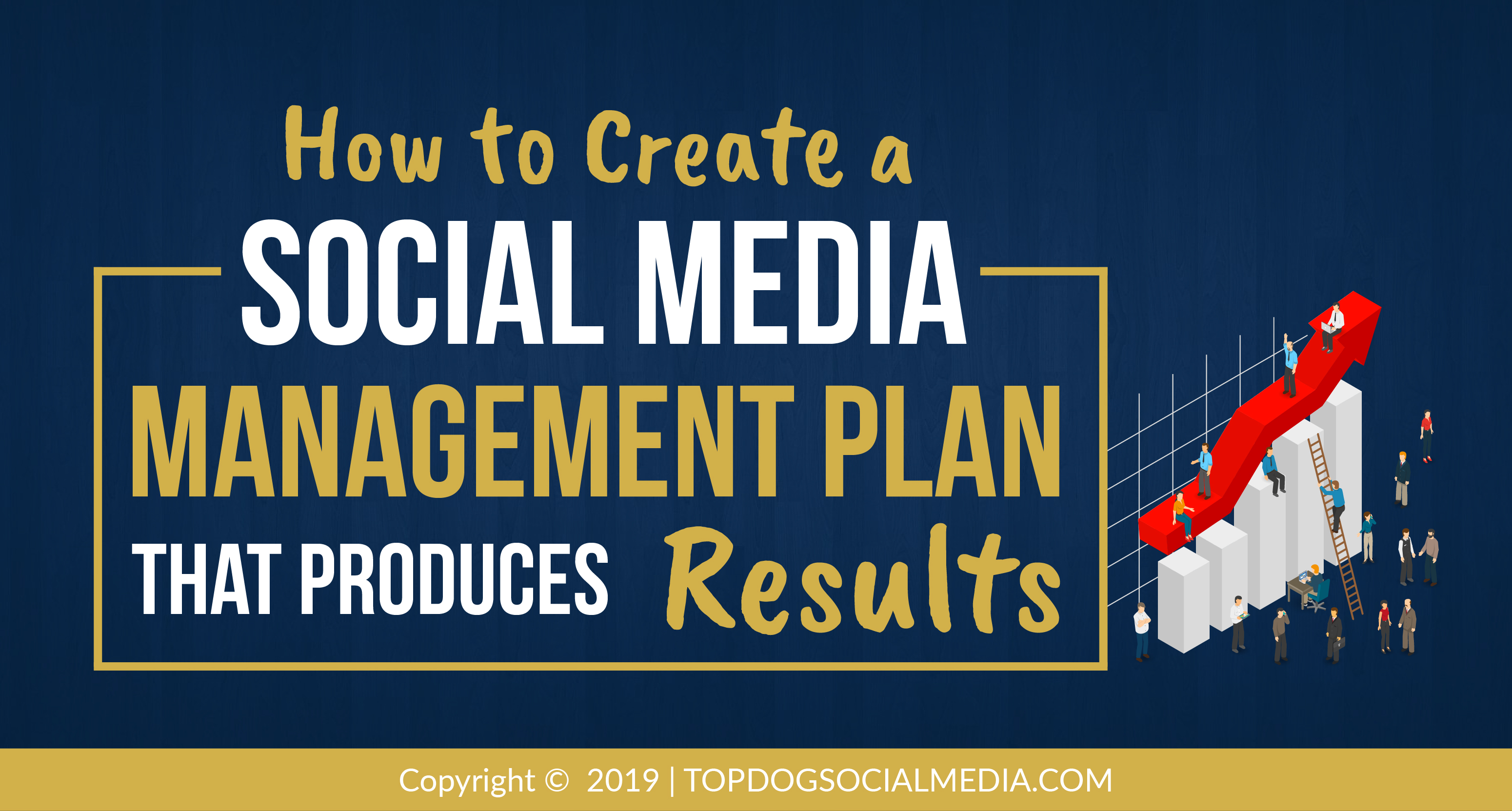 If you are like many business owners, you are currently using social media with no formal social media management plan in place.
You are not alone. Most people have been winging it for years when it comes to using social media for business.
But winging it has never been a good strategy. You cannot expect that random posting on social media would produce results, much less the results you want.
By having a social media management plan, you will:
be more efficient with your time and efforts
create significantly better results (more traffic, leads and sales)
be able to measure and quantify those results, helping you further improve your marketing efforts.
If you are a small business or even a one-person operation, I know your resources — both time and money — are limited.  That means you likely don't need a complicated social media management strategy.
The great thing is, that is not necessary.
While you do need to have a plan to be efficient and effective with your social media efforts, it does not need to be long or complicated.
In fact, the simpler and more concise the plan, the better.
To create your social media plan, you need to answer the following questions:
What business goals do you hope to achieve using social media?
Who are your ideal clients, and what social platforms do they use?
What metrics will you use to measure your success?
Are you creating content, curating content, or both?
How much time can you allot to your social activities every day/week?
What social media activities will give you the quickest wins?
By creating a simple plan that addresses each of these points, you will be well on your way to building a social media community that will foster your success and help you achieve your goals.
Next, I break down each of these points and what they might look like as part of a simple social media management plan.
6 Components of a Simple Social Media Management Plan
1. How will you use social media to achieve your goals?
Before you begin developing any social media management plan, you need to know what you want to accomplish with social media.
Social media is no different than any other business or marketing tool. Before you acquire and begin using any tool for your business, first you need to know what you want to achieve with that tool.
Start by determining what your overall business goals are.
If you have a business plan, go through your goals and objectives, determining which goals social media marketing can help you achieve.
If you don't have a business plan, think about what goals you would like to achieve for your business. Goals that social media can help you achieve include:
increasing brand awareness
establishing your authority on your topic
building a loyal community
attracting more leads and prospects
building relationships with new customers
maintaining and improving relationships with existing customers
improving customer service
increasing revenue
If you are just starting out, pick top three goals to start with. Keep in mind if you do not have a large social media presence currently, you may want to start with the first three items listed above so that people begin to know, like and trust you.
2. Who are your ideal clients, and where will you find them?
The second section of your plan should focus on understanding who your ideal clients are.
To help you start, ask yourself the following questions:
Who is your ideal client specifically?
What titles or positions do they hold?
What is the typical language of their business, industry or organization?
What kinds of problems/challenges do they face?
Once you have identified what goals you want to achieve with social media and who you ideal clients are, you need to examine each of the available social media platforms to determine the following:
which platforms your ideal clients are using
which business goals each platform can help you accomplish
which social media platforms will best reach your ideal clients.
If a platform is not used by your ideal clients and will not help you achieve your business goals, you should not invest time, effort or money into this platform.
For example, if you are a high-performance business coach who focuses on executives and business leaders, spending hours on Facebook might be a complete waste of your time and energy. LinkedIn, on the other hand, is a fantastic place to locate and build relationships with executives and business leaders.
3. How are you measuring success on social media?
After you determine which social media platforms are the best to reach out and build relationships with your ideal clients on, list the goals you want to achieve for each platform.
For example: on LinkedIn, you might want to:
generate three new leads per month
build your authority on your subject matter
After you determine the specific goal(s) for each platform, you need to define how you will measure each goal.
If, for example, your goal is to generate three new leads a month on LinkedIn, you simply track the number of new leads you get each month.
A goal with a less obvious metric might be to build your authority on your subject matter on LinkedIn. In this case, you might look at metrics such as the number of likes, shares and comments your content is receiving and the number of new connection requests you receive after posting thought leadership content.
Here are a few examples of the different types of sales-related social media metrics you can track:
number of leads generated from social media activities
number of appointments booked
value of your sales pipeline generated from social media activities
contract value of deals made from social media
revenue generated from social media activities
Branding metrics, which are not revenue-focused but provide insights into your success with non-revenue related goals, include:
number of views for posts or shared content
engagement with shared content (likes, comments, shares, etc.)
visits to your website coming from social media
follower or network size (connections, followers, page likes)
4. What are you sharing on your social platforms?
If you use social media for business, you need to leverage content marketing, whether you are sharing content you created, content you curated (found) or a mix of both.
If you are just starting or don't feel confident creating your own content, content curation is the way to go.
Sharing others' content can help you:
build credibility and trust
position yourself as an authority in your field
maintain top-of-mind awareness with your network
build and grow your sales pipeline
There is a wrong way and a right way to curate others' content. Keep these content curation best practices in mind when sharing content:
Add your own perspective: Don't just share existing content as it is. Add your insights from the curated content, or preferably share your perspective on the content.
Engage with your audience: Ask questions, respond to comments and engage with those who are engaging with you.
Have a CTA (call to action): Sharing curated content without a CTA is a missed opportunity to get your audience to take a particular action. Your CTA may be as simple as asking your readers to comment on, share or like a post.
5. How much time do you have for social media activities each week?
Every business is different. There is no one-size-fits-all approach to how often you should be posting on each social channel or how much time in general you should devote to your social media activities.
What is important is that whatever frequency or amount of time you choose to devote to your social media plan, you need to do it consistently. Consistency produces results.
Keep in mind that the more aggressive your sales goals are, the more time you need to invest in your marketing and lead generation efforts to produce the results you want.
It is also really important to remember that regardless of how much time you invest daily or weekly, it takes time to build your social community and see results from your efforts.
Building relationships online is no different from building relationships offline. It takes time, effort and consistency.
Save time by scheduling posts
You can pre-schedule your posts on most social platforms. Scheduling all your posts once a week is a great way to save time and increase efficiency.
This will provide you with extra time to focus on what matters: the engagement!
6. Where should you start?
Once you create a document outlining your simple social media management strategy, pick one goal to start working on first.
This should be one of your simplest goals, something you can see relatively quick results with.
This is important as achieving quick wins early on can help you build momentum and develop the consistency so you can be successful with your other goals.
Don't delay creating and implementing your social media management plan!
Today's modern buyer is digitally connected and expects the businesses they do business with to have a digital presence.
If you want to thrive in today's digital landscape, you need to have a social presence on the platforms your ideal clients use. Having a social media management plan in place, even a simple one, will help you maximize your results with social media while minimizing the time and resources it takes to accomplish them.
For those offering business services, the ideal B2B social media management plan consists of three main parts: LinkedIn, social selling and content marketing.
If you want to master those three areas, I invite you to take a peek at my online training and coaching program, Cracking the LinkedIn Code 3.0. You can also watch a free training to learn more about the program here.
Comments
Comments are closed.