How to Use LinkedIn Job Search to Land Your Dream Job
If you are like most people, whether you are currently unemployed or leaving your current position to look for a new one, this can be incredibly overwhelming and stressful.
Finding a new job, or more specifically, the right job, can be daunting, despite the fact that there are for example, 11 million job openings a month on average, in the United States. Even with so many jobs available, the average job search takes about six months, according to LinkedIn.
Thankfully, LinkedIn can also make this process go much faster and smoother for you. It is a relationship building platform for professionals, business owners and executives. It also has a very high population of recruiters and hiring managers.
There are three ways that you can use LinkedIn to maximize your job search efforts:
Search for available positions using the Advanced Jobs Search.
Search for recruiters and hiring managers with LinkedIn's advanced search function.
Leverage your network to gain introductions.
In this article I am going to focus on the first, showing you how to effectively search for available positions on LinkedIn using the Advanced Jobs Search feature.
But before we jump into the specifics of using the LinkedIn job search feature, it is absolutely essential that you first take the time to update your LinkedIn profile.
75% of hiring managers report looking at LinkedIn profiles to learn about a candidate's background. (LinkedIn)
First impressions are everything, especially online. You have seconds to make an impression on a potential employer before they size you up and move on.
You need to show recruiters and hiring managers that you not only have the skills and experience that they want, but that you would also be a good fit for the team and company culture.
How do you do this?
You start by creating a professional and employer focused LinkedIn profile. Here is a resource that will help you build a professional looking profile and personal brand that will represent you the way you want to be seen by recruiters or hiring managers.
Using LinkedIn's Job Search Feature to Get Hired
Let's dive into how to find jobs using the LinkedIn Job Search feature.
A great place to start is by creating a dream list of employers that you want to work for and the places you would be willing to move to if it is required for a position. This can help create searches that produce the most productive results.
To start your search, type the position you are looking for in to the Advanced Search bar in the top left corner of LinkedIn (or in the LinkedIn Jobs page). When the results come up, select "Jobs" located just below the search bar. Next add your desired city, region or country.
This will create results which might look something similar to the image below if you were looking for a position as VP of Marketing in the Netherlands.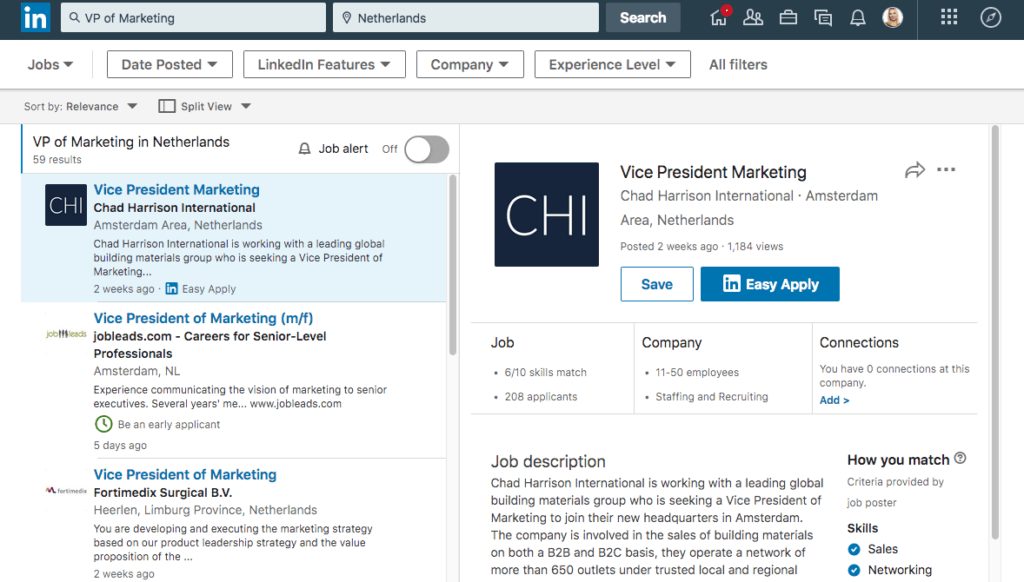 You may decide you wish to add another filter to your search. LinkedIn makes this easy as there are several other filters located at the top of the page.
You can filter the results by when the job posting was listed. This allows you to select jobs posted in the last 24 hours, the past week, the past month, or at any time.
You can also filter by LinkedIn features which allow you to see whether there are less than 10 applicants, if the job posting allows easy apply or whether the posting is found within your existing LinkedIn Network.
You can filter by your list of dream companies using the Company filter.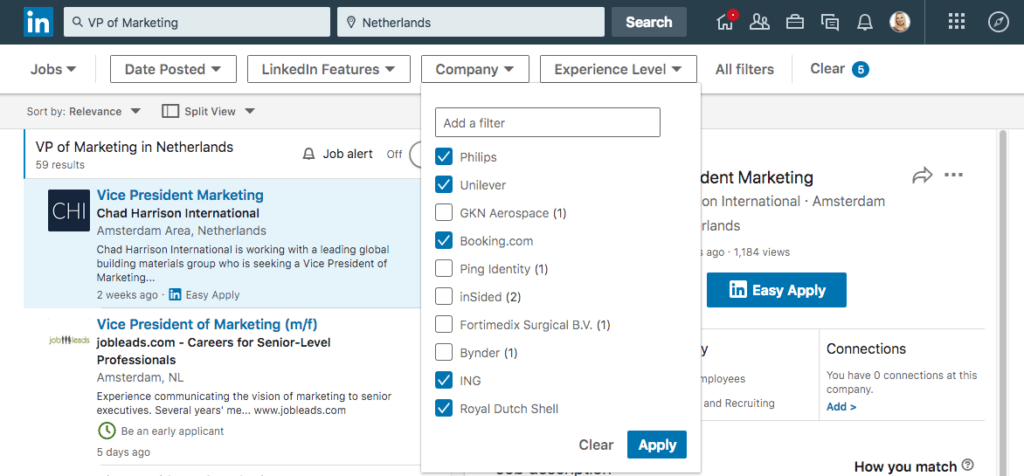 Make your results more relevant by using the experience level filter.
Additionally, you access the complete list of job searching filters by click the All filters link, which includes:
Date Posted
Salary
LinkedIn Features
Job Type
Locations
Company
Industry
Job Function
Experience Level
Title
Commute
Reviewing Your Job Search Results on LinkedIn
Once you have finished filtering your search you can begin to go through the search results looking for good matches.
You can quickly scan through the results and click the Save button when you find a job that you are interested in. This will allow you to go back through all of your saved searches more thoroughly later.
If you want to move on the posting right away, you can also click the Easy Apply button, if the job posting includes this feature.
To use the Easy Apply, simply complete all the required fields and submit your application. Required fields can differ from job to job and may include: Contact Info, Job Preferences, Resume and Work Experience.
NOTE: If you see the Apply button instead of the Easy Apply button, you'll be routed to that company's website or job board to continue the application process.
You will also find a plethora of other helpful info at the top of each job posting. This information includes:
Position title
Company
Location
When the job was posted
How many views the job has
How many of your listed skills match the required skills listed by the job poster
How many applicants have already applied
The company size and industry
How many employees that you are currently connected to at the company
A link to a search results page that lists all the employees of that company on LinkedIn
When you scroll below the top section you will see a job description that is provided by the company and responsibilities of that position.
To the right of this you will also see which of your skills and education match those listed as required by the company as well as other job details.
Creating Job Search Alerts on LinkedIn
If you create a job search that produces the results you want, save time by creating a job search alert. To do this, click the Create search alert button, located above your results on the left-hand side of the page.
While setting up your search you can change the alert to send you notifications on a daily or weekly basis. If you are a motivated job seeker you may want to set this to daily. You can also choose how you wanted to be notified. Choose to be notified by email, notifications right within LinkedIn, or both. Again, to maximize your results, try setting it to Email & notifications.
Once you have finished creating your saved job searches, you can access your saved jobs or manage your job search alerts on the LinkedIn Job page.
Start by clicking on the Saved jobs link on the Jobs page. This will open a list of all of your saved jobs.
You can click on each individual job to see its full details or you can hit Apply to start the application process.
You will also find your saved Job search alerts on this page, located just above the Saved jobs. Click Manage alerts.
This will open a pop up window, which will allow you to edit the frequency and types of notifications you receive as well as provide you with the ability to delete that alert.
Doing LinkedIn Job Searches on the Mobile App
You can also search and apply for jobs while using LinkedIn's mobile app.
This is handy considering more than 50% of LinkedIn members are looking for jobs via their mobile devices. Applying for jobs in just a few clicks with your device will soon be the norm, if it isn't already for many job seekers.
If you haven't already, you can begin by setting up your job search. Start by selecting your career interests.
Next you will select when you are looking to start a new job. You can choose from As soon as possible, 1-3 months, 4 -12 months and Willing to wait for the right opportunity.
Speed up your job-hunting results by turning "Signal" on, to let recruiters know you are looking.
The next step involves selecting or adding the titles you are looking to apply for. You can modify or add new titles later on.
Now you will need to access and add that list of possible locations you are willing to relocate to or simply select the city or location that you currently live in if you are not open for relocation.
Create new search alerts based on the titles and locations you added.
That will complete the job search setup process on the LinkedIn mobile app.
Now you can easily search for jobs wherever you happen to be, on your device using your position and location and then filtering by date posted, company, experience levels and LinkedIn features.
Review Jobs on the LinkedIn Mobile App
After running a search for potential positions, you can review the job postings on the app and then save or apply for the jobs right on the app. You will find the same detailed info for each posting that you would see on the desktop.
Because smartphone use is so prevalent today, many employers now allow users to apply by submitting their profile directly from their smartphones.
When you save your search on the app, not only will you trigger a daily email with fresh results, but you can also set up push notifications, which will alert you when new jobs are posted that match your criteria.
If you are like many people, considering a paid LinkedIn account may be necessary to achieve the results you are looking for, depending on the competitiveness of the job market, the position you are looking for and the amount of time you have to dedicate to your search.
LinkedIn has created a premium account specifically for job seekers called Career Premium, which includes the features:
LinkedIn Job Posting Premium
Who Viewed Your Profile
InMails
Learning Center
LinkedIn Job Posting Premium (Competitive Intelligence)
This feature allows you to examine a number of factors that are relevant to your job search such as statics about your competitors for each position.
This Competitive intelligence about other applicants provides you with information such as:
How many applicants
How many applicants in the last 24 hours
Which top skills you share with the other applicants
You can also see the seniority levels of other applicants as well as their education levels.
Finally, you can check out the handy map LinkedIn provides, which shows where the other applicants are currently applying from.
Perhaps the most valuable feature that Premium Career account holders receive is that their applications will be highlighted when they use the Easy Apply button. This means that they will show up at the top of the applicant list, in the Featured Applicant section.
An excellent source of potential connections can be found in your Who's Viewed Your Profile page. This page provides you with a list of people who have recently viewed your profile such as recruiters, hiring managers or senior staff at the companies you are applying to.
With a free account, you can only see the last five people who have viewed your profile. But with a paid account, you can see everyone who has viewed your profile over the last 90 days.
This feature makes it easy for you to see who you are already connected to and who you aren't. You will also find a message button below your 1st degree connections and a connect button below your 2nd and 3rd degree connections, to make it easy for you to connect or reach out to these people.
LinkedIn InMails are messages you send directly within LinkedIn to another member with whom you are not already connected, but it is only possible to send InMails with a premium subscription. You are given a set number of InMails you can send each month, depending on the paid account type (premium subscription), with the ability to purchase more. You are able to accumulate your credits from month to month, but they will expire after 90 days.
InMails are handy to have if you want to send a message to someone before trying to connect with them via a connection request. You can also use an InMail to message someone who has not yet accepted your connection request.
Your monthly premium membership subscription will also give you access to LinkedIn's Learning Center. In the Learning Center, you will find a wide variety of training, courses and content that you can access under three central themes:
Business
Creative
Technology
LinkedIn Career Premium on the LinkedIn Mobile App
Even when you are not at your desktop, you can access all of your premium benefits from the LinkedIn mobile app.
LinkedIn's Job Search Feature Summed Up
Take some of the work out of your job search by using the LinkedIn Job Search feature, which makes it easy to find the positions you are most interested in, at the companies and locations you desire. Once you have created the perfect job search, you can easily save it and have LinkedIn send you notifications when a new position that meets your requirements is added.
You can also quickly and easily apply for jobs you are interested in with LinkedIn's Easy Apply feature or further boost your search efforts and application standing with a paid Career Premium Membership.
Did you find this helpful or know someone who is job searching? Please share this post with them
If you are an in the midst of an executive job search, having a great LinkedIn profile is essential to your success, in landing the position you desire. You can turn it over to the experts with our Executive LinkedIn Profile Development, we will ensure you stand out and make a fantastic first impression.
Comments