How to Download Your LinkedIn History
Did you know that you can download an archive of your LinkedIn history?
It's a wise idea to request a downloaded archive of all of the available data and history from your profile, connections and activity on LinkedIn.
Especially if you have invested a lot of time into building a LinkedIn profile to find, connect and build relationships with your ideal clients or buyers.
But where exactly do you go to access this and what are the steps to download your LinkedIn history?
Thankfully this is relatively quick and easy to accomplish.
In this article I am going to share, step by step, how to do three different types of LinkedIn history downloads and how you might benefit from the downloaded information.
Three ways to download your LinkedIn history
To initiate one of the downloads available of your LinkedIn history, start by clicking Me in the top navigation bar and selecting Settings & Privacy. This feature is not currently available on mobile.
You will see a variety of options available.
1. Initiate a partial LinkedIn history download
The first type of download you can do on LinkedIn is a quick, partial data download.
With this download, you can choose one or more of eight different data categories that you can access in about 10 minutes. Most will be in the form of a csv file.
To access this info, click on the option that says "Want something particular. Select the data files you are most interested in."
Here you can select one, some or all of the files listed, including:
Articles: A folder containing a webpage link to each published article (no stats, comments, reactions or shares are included).
Imported Contacts: The contacts you have imported.
Invitations: Outgoing and incoming invitations, the date, the message content.
Recommendations: A csv file for the recommendations you have received as well as a file of ones you have sent.
Connections: A list of your current connections including first name, last name, email address if they allow it, company, position, and the date you connected.
IMPORTANT: While most of your connections no longer share their email addresses, it is vital that even if someone does allow their email address to be listed that you do NOT add them to your email list. Doing so is not only poor online etiquette, but it is also illegal in several countries.
Messages: Includes who the message is from, the sender's profile link, who the message is to, the date it was sent, the subject line if there is one, and the content of the message. If you have been using LinkedIn for a long time or message frequently, there will be a large amount of data and this will require you to do the complete 24-hour download.
Profile: Your current headline, summary, industry, address, location and websites.
Registration: Recent purchase such as LinkedIn Premium or Sales Navigator.
A screen will pop up and ask for your password.
After you click Done, you will see a screen telling you that your request is pending.
After approximately 10 minutes you should receive an email with a link that will take you to a Download archive page.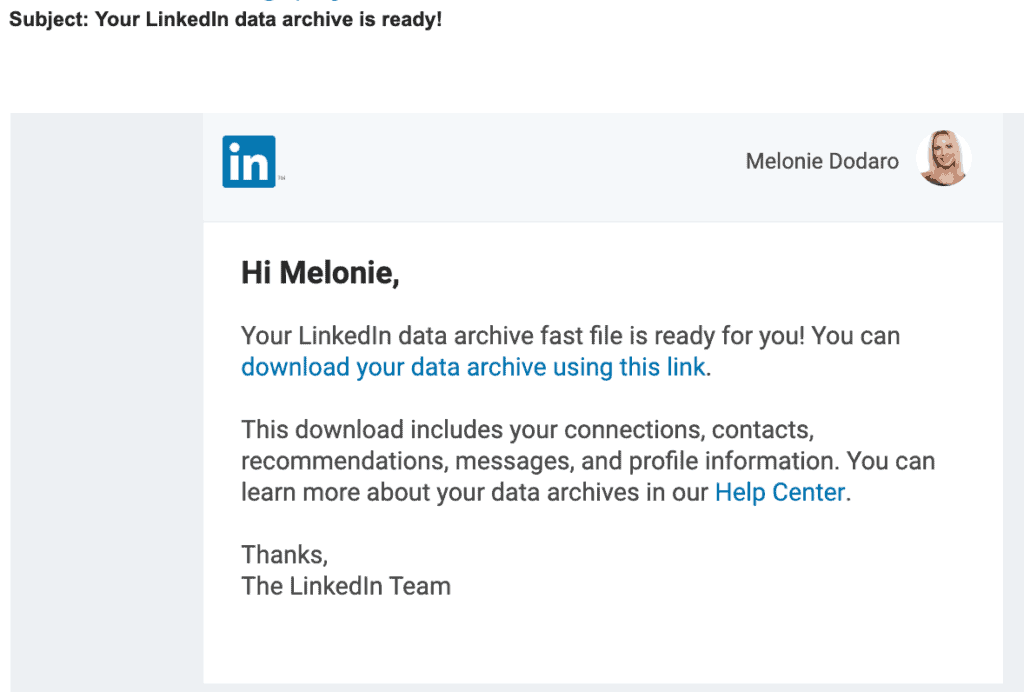 You can also just come back to the page and you will see a button that says Download archive. This will initiate the download archive of a zip file to your computer.
The file will be named something similar to:  "Basic_LinkedInDataExport_MONTH-DAY-YEAR.zip"
Open the zip folder to see your downloaded data.
You will have 72 hours to download your archive. To request a new archive download, check back in a few hours later. Click the Request new archive link to allow you to select the new type of archive you want to download.
2. Get your full LinkedIn history archive
If you want to access your complete data archive with information about your account history, profile and activity, go to the Get a copy of your data section of your Settings & Privacy page.
Select "Download larger data archive…" and click Request Archive.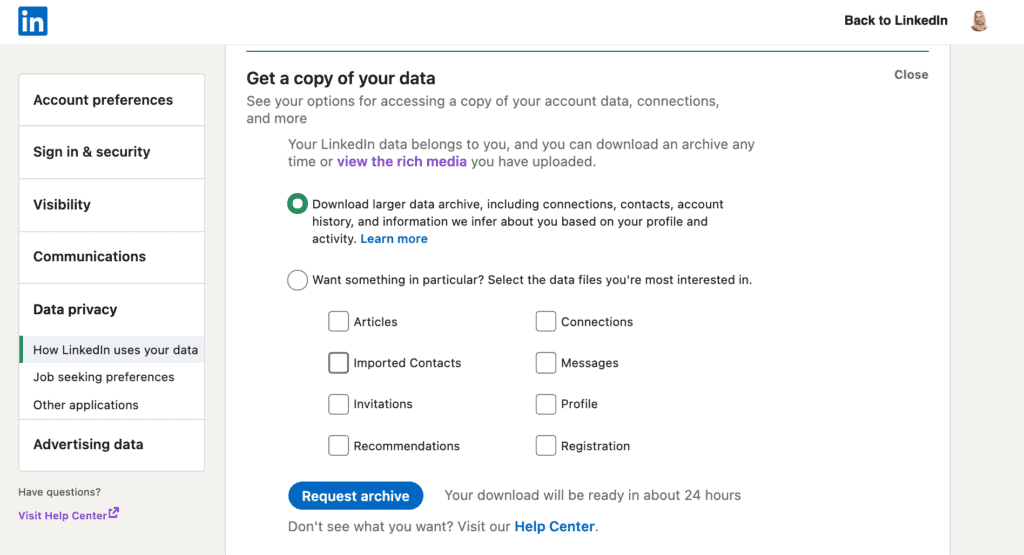 You will be notified by email (or you can check back on this page) in 24 hours, when this archive is ready for downloading.
Usually, you can get a partial download of this LinkedIn history in the first 10 minutes. Once 24 hours have passed after your request, you will get an email with a link to the full download (or you can go directly to the page).
Files or folders that might be included in your LinkedIn history download include:
Ad Targeting
Ads Clicked
Articles (folder)
Causes You Care About
Comments
Company Follows
Connections
Contacts
Education
Email Addresses
Events
Hashtag Follows
Honors
Inferences About You
Invitations
Jobs (folder)
Learning
Logins
Member Follows
Messages
Mobile Applications
Phone Numbers
Positions
Profile
Publications
Reactions
Receipts
Recommendations Given
Recommendations Received
Registration
Rich Media
Saved Items
Saved People Searches
Search Queries
Security Challenges
Shares
Skills
Videos
Votes
Keep in mind that this is an incomplete list of the files that you may receive. This depends entirely on which features you use within LinkedIn.
Once you open your downloaded data, you may find many of the files are not relevant or helpful to you.
This might include files such as Ads Clicked. This file is simply a list of the ads (date and ad ID) that you have clicked on while in LinkedIn. Store or delete these files as you see fit.
A number of the files you may want to keep as a backup, in case anything should happen to your LinkedIn account or for reference in the future. These include any files that have to do with your profile and connections.
These might include the files:
Profile
Recommendations Received
Positions
Skills
Publications
Connections
Your Recommendations Received is one of the more important files you will want to keep as this document contains social proof AKA testimonials that you can also use in other marketing mediums such as on your website.
Files such as your Reactions or Shares can be interesting to look at but are hardly worth holding on to for future use, unless you want to review your previous behavior or postings. Reactions simply list the link to posts or comments you have reacted to, your reaction and the date. Shares are a list of your LinkedIn posts and include the date, the link to the post and the text you included with it.
If you have a premium membership or pay for LinkedIn Learning, the Learning file might also be interesting as it lists the different courses you have accessed through the platform.
Inferences About You
While less useful than some of the history you can download from LinkedIn, the Inferences About You file provides an interesting look at how LinkedIn, and potentially your connections see you based on your profile, posts and interactions with others. 
For example, LinkedIn did get some important details right such as I am a small or medium sized business owner and that I travel for business. It also inferred that I had moved to a new country.
Based on my activity it also deduced I am an Active contributor who influences public opinion.
If you are curious about what LinkedIn thinks it knows about you, be sure to do a complete download of your LinkedIn history.
3. Review or download your media
LinkedIn also provides a page for you to view and download your rich media.
These are images, documents and videos you have shared in your posts.
The page default is set to All Rich Media but you can also filter your media by Photos, Videos or Documents.
Each piece of media is listed with the date/time, a media description and the download link.
Clicking the link opens the media in a new window where you can download and save it.
What if the LinkedIn history I want isn't in these files?
If you would like to access data that's not available through one of these three types of downloads, you will need to complete LinkedIn's Data Access Request Form.
Once you've completed the form, it is sent to LinkedIn for review, and you can also save a copy for your reference.
Just as you have a backup of your website content, it's wise to have a backup archive of all of your LinkedIn history.
Comments