Your LinkedIn Inbox Has A New & Improved Look
Filed under: LinkedIn
Have you seen the changes to LinkedIn's inbox yet?
LinkedIn has been rolling out a number of small changes over the last few weeks. One of the most noticeable is the cleaner and more streamlined look for the LinkedIn Inbox.
This is the first update to the inbox in a long time. Long time users will notice the addition of several new features as well as and removal of a number of old ones.
It is important to note that as the writing of this post, the changes have not finished rolling out to everyone. So if your LinkedIn Message Center is not yet sporting the latest changes, you should be seeing them in the near future.
 Changes To Your LinkedIn Inbox
One of the most noticeable changes is the preview that is now available for each LinkedIn message from the main area. This makes it quick and easy to scan the content of each message, so you can identify important messages as well as any spam.
One of the best new features of the new LinkedIn Inbox is the ability to Star important messages. You can do this by hovering your mouse over an individual message and clicking the star in the bottom left corner. You will also see the ability to directly reply, forward, archive or delete the message as well.
Star important messages.
 The ability to mark your messages as read or unread is still available but has become less obvious. To mark one or more messages as read or unread, simply check all the messages that you wish to change and then in the top right corner click More and then select Mark Read or Mark Unread. You can also Delete or Archive any selected message from this location as well.
The look within each individual message has also changed. At the top of each message you can hit the Reply (back arrow), Forward (front arrow), Delete (trash can) or More, which features the ability to Archive a message or click Report Spam.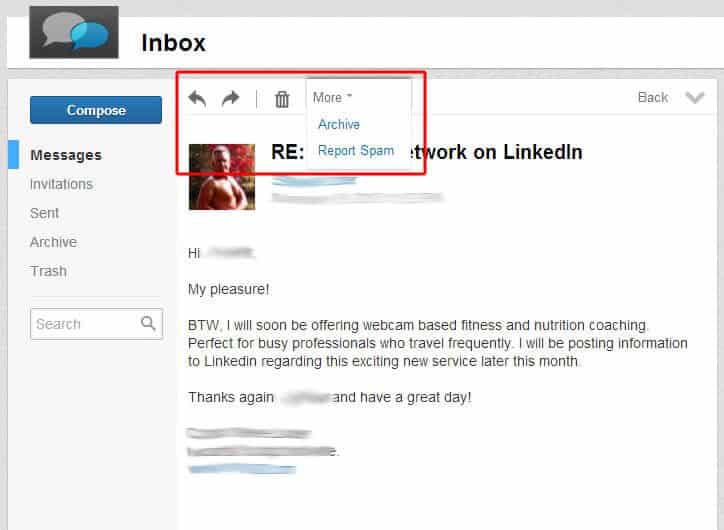 Filtering LinkedIn Messages in Your Inbox
The ability to search through messages using the filters has become more limited with the recent update. You can no longer sort by Newest or Oldest messages.  They did add one filter, the ability to search by Starred, which is an excellent addition.
Sending Bulk Messages From Your LinkedIn Inbox
While you can still send bulk messages to up to 50 people at once, there is no longer the ability to access your LinkedIn Address Book and select people in bulk right in the message center at this time. You now have to go to your Contacts page and select the contacts from the tagged group you wish to send to. When adding people to a message however, you can now see the profile picture of that person beside their name.
One of my greatest disappointments with the new LinkedIn Message Center is that after all the changes they chose to make, they did not change the "Allow recipients to see each other's names and email addresses" box to be automatically unchecked. This means that if you are sending messages to more than one person, you must still remember to unselect this box!
Changes To Your LinkedIn Connection Requests
You will notice that the location of connections requests sent to you by others has now changed. These requests have now been given their own location. You can find this page on the main navigation menu at the top left of your LinkedIn Message Center under Invitations.
There have also been several changes to the Invitations page. In each connection request, you can now see how many shared connections you have. In fact, if you click on Shared Connections, it will expand to show you a list of 8 profile images of your shared connections with a link to See All, if you share more than 8.
An interesting new feature when accepting your connections is the Reply (don't accept yet) option. This allows you to send a message back to the person who sent you the connection request, even though you are not connected yet. When you reply using this method, it responds as a reply with the connection request message below.
A change that I know will greatly affect me is the change to the Send Message link. Now, after you accept a connection request and click on this link, you will only get a blank message with the person's name in the address box, rather than their connection message included below. Because I respond personally to every person that sends me a connection request, I prefer to have their message included below as it makes it easier to ensure that I address everything mentioned in their request when someone has taken the time to personalize their message.
From this point on, in order to include a new connection's request message in your reply, you need to either use the Reply (don't accept yet) option before you connect, reply to the connection request message from the archives (which is time intensive if you get a lot of connection requests) or remember to copy their connection request message before you accept and then paste it into the blank message at the bottom (also time intensive).
One thing I do like about this function of being able to reply before accepting, is if they haven't wrote you a personal note [I highly recommend that you always send a personalized message with each connection request, learn more about LinkedIn Etiquette here], you can reply asking them why they would like to connect with you.
Finally, while I would never doing this you can still accept or ignore a large number of connection requests at once. The reason I don't recommend it is I always like to reply with a personalized message to all my new connections that I accept. You can either check all the requests individually or click the box in the top right-hand corner to check them all at one time and the click Accept or Ignore.
If you are a relatively new or less experienced user, the new changes and streamlined look to LinkedIn's Inbox will be positive and helpful to you. For those of us who have become accustomed to certain features, the changes are also mostly beneficial but will take some time to get used to.
Have I missed any important changes to LinkedIn's Inbox? What do you think of the changes to the LinkedIn Inbox? Please let me know in the comments below.
Comments