5 Crucial Steps to Mastering LinkedIn Lead Generation
Your monthly bills are a certainty. Your sales to pay those bills are not.
What can you do to ensure you are consistently generating new leads each month, leading to more consistent sales?
Many business owners, entrepreneurs and professional service providers started turning to LinkedIn to generate new clients and create more predictable monthly revenue.
With that, LinkedIn lead generation services started popping up everywhere, promising to solve that problem and create vast amounts of new business. Sadly, the customers who use these services or automation tools are disappointed with the results. Worse yet, their reputation and credibility are permanently shattered because if it.
In my considerable experience helping thousands of businesses and professionals, just like you, to generate leads in a predictable and reliable way, LinkedIn has been my number one tool. But it has to be used right and not in a spammy, salesy, automated manner.
Did you know:
LinkedIn is 277% more effective for lead generation than Facebook and Twitter;
79% of B2B marketers say LinkedIn is an effective source for generating leads;
over 80% of all B2B leads generated by social media come from LinkedIn?
Just these three stats alone make a strong case for using LinkedIn for lead generation.
You may be thinking I've had a LinkedIn profile for years, and it's never resulted in much, if any, business.
Just having a profile on LinkedIn is like owning a bike but not riding it. It won't get you anywhere unless you learn how to ride it and actually use it.
Before you begin any LinkedIn lead generation activities
If you want to be effective at using LinkedIn to generate a predictable stream of new leads, you need to ensure your LinkedIn profile is professional-looking, unique and client-centric.
Many of your ideal clients and decision-makers will decide whether or not to accept your connection request by looking at your profile. Write your profile so it impresses them. You need to do this only once, and investing the time in updating your profile to convey the most professional "brand of YOU" is essential.
If you are interested in learning more about how to write an effective LinkedIn profile, watch Video 1 of the free LinkedIn Leads video series: How to Create a Magnetic LinkedIn Profile That Attracts Your Ideal Clients.
Now, let's move on to the meat and potatoes of using LinkedIn for lead generation.
The LINK Method™: 5 Steps to Successful LinkedIn Lead Generation
There are only five steps to finding a highly targeted prospect on LinkedIn to booking a call with them as a qualified lead. But it's important not to skip any of these steps, and that they are followed in the order, they have been laid out here.
The LINK Method™ has been responsible for helping thousands and thousands of my students and clients go from wondering where they'll get their next client, to have a full sales pipeline of highly qualified leads every single month.
The first step to getting off the feast and famine merry-go-round of lead generation is to stop waiting for your ideal clients to find you – you must take control of your lead generation efforts.
Begin by finding the right people on LinkedIn, the ones who could be your perfect clients.
LinkedIn's advanced search is a powerful tool most people don't leverage fully.  Even with the free version of LinkedIn, it's still the most targeted search functionality of any social network.
It gives you a tremendous opportunity to find your target market easily and quickly.
To do this, go to the search bar, and type in the keywords matching your ideal clients.
You can then further filter your search by titles, locations, companies, industries, and schools of your potential leads. And that's with just the free version.
If you have (or are considering) paying for Sales Navigator, you will have access to a much greater search functionality. The enhanced advanced search will produce a vast but very targeted list of potential clients who match your search criteria.
Regardless of which version you are using, you can make your searches hyper-targeted by using Boolean search parameters. You'll be able to weed out the wrong people and laser focus on the right ones.
For example, if you were looking for someone in a role that may use different titles, you could set up the search to list a variety of different search parameters at the same time.
If you were looking for a marketing leader in mid-sized companies, you might search for the title "Vice President of Marketing." You could also program your search to find an "SVP of Marketing" or a "CMO."
You can also exclude certain people. You might want to exclude terms such as consultant and coach because these professionals are likely self-employed and don't fit your target market.
Your Boolean search might look like this:
"Vice President Marketing" OR "SVP Marketing"
 OR CMO NOT Consultant NOT Coach
That's just the tip of the iceberg of how precise you can get with your targeting on LinkedIn. I hope you can now appreciate the LinkedIn's capacity to help you find and target your ideal clients.
Once you have found a prospect you want to connect with, you need to move on to step 2.
Additional Reading: LinkedIn Membership Levels: Free vs. Business Premium vs. Sales Navigator
The second step of the LinkedIn lead generation strategy is to connect with the targeted prospects you have identified.
When you send your connection request to them, personalize it. Write your connection request with only one goal in mind: to get your prospect to accept your connection request.
That's it.
I cannot stress enough how important that is.
To do this, you need to answer one question they will have:
"Why is this person trying to connect with me?"
Now, remember, your answer must be framed from their point of view. Keep it simple, and make it all about them! If you talk about yourself, their response will be who cares! I am not being mean here. I am being honest.
There are four effective ways to personalize your connection message:
Commonality: Find and mention any relevant commonalities you share, such as going to the same school, belonging to the same organization, or even living in the same city.
Interest: Show interest in them, their business, or something they have posted on LinkedIn.
Reference: Reference something about them or their company.
Compliment: Include a relevant and appropriate professional compliment.
The most important thing you need to remember is to make it about them – not you! Your connection request should serve one primary goal: to get them to click Accept.
In step 3, once your new connection accepts your connection request, you want to begin engaging with them.
Your only goal here is to begin a dialogue to start establishing some rapport. One of the best ways to do this is by asking a question.
When asking a question, be sure to keep it short and non-invasive. Your new connection should be able to answer any question you ask in 30 seconds or less.
For example, ask them about something in their LinkedIn profile, something they posted on LinkedIn (from their Activity section), or something about their company.
Keep it light, and do not inundate them with small talk.
Additional Reading: How to Use LinkedIn for Lead Generation
In step 4, your goal is to begin building a relationship with your connection. The best way to do that is by providing value to them. This can often be achieved by offering to share a relevant content resource with them.
Keep your message short, and ensure the resource you are sharing is highly tailored, relevant and of value to them.
For example, if my ideal clients were Financial Advisors, I could offer a generic resource called "The LinkedIn Blueprint to Grow Your Business," but this would not get a great response. Why? Because it's much too general and doesn't speak to financial advisors or their top of mind problems or issues.
If, on the other hand, I offered them a highly tailored resource called "The Financial Advisor's Guide to Attracting High Net-Worth Clients Using LinkedIn," I would receive a much better response. It is specific to them and addresses one of their key pain points: getting more high net-worth clients.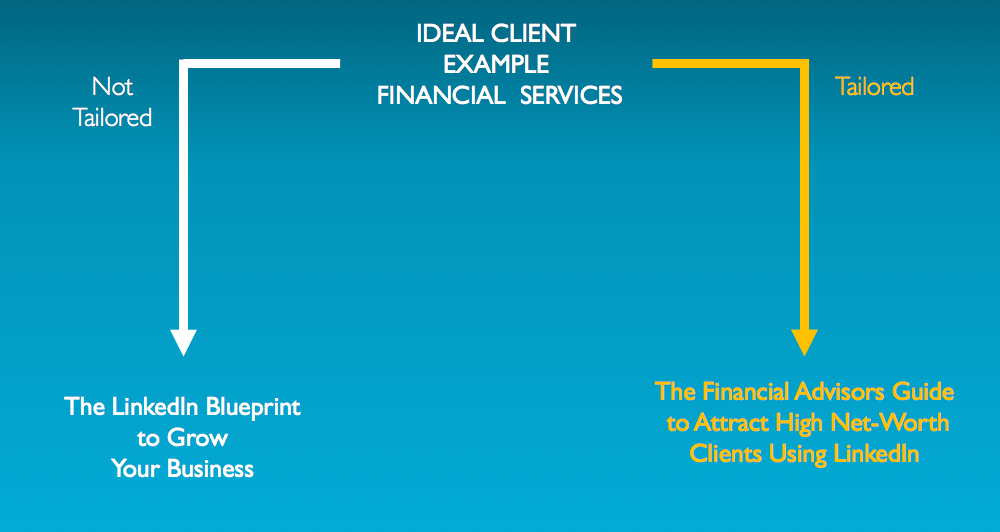 Once you've started a dialogue, established some rapport and added value to your prospect, it's time for step 5: to ask to schedule a conversation.
Your single goal in this step is to book an offline conversation, whether that means scheduling a call, a video chat, or a face-to-face meeting.
Many people make the mistake of trying to do a sales pitch in their LinkedIn messages rather than waiting until they speak with someone.
Do not make that mistake!
You need to slow down the sale to speed it up. Short cuts don't work, no matter how much you wish they would, or how many "LinkedIn lead generation experts" say they will. I use the word "experts" here very loosely.
You won't know how to position your offer properly unless you speak with your lead and find out what their exact needs are.
And please don't just ask "Can we schedule a call?" A message like that won't work.
Give your prospect a reason to say yes to booking a phone call with you by making it clear "what's in it for them." Assure them the phone call will be a good use of their time.
WARNING: LinkedIn lead generation services and automation tools are popping up everywhere, making bold promises of vast amounts of new business.
Sadly, the customers who use these services are disappointed with the results. Worse yet, their reputation and credibility are permanently shattered because if it.
Amplify your LinkedIn lead generation with nurturing your prospects
Just because a prospect isn't ready now doesn't mean they won't be ready in 3, 6, or 12 months from now. It is essential to stay on their radar so that when they are ready, you are the first person they think of.
You can easily accomplish this goal by staying in touch with them from time to time and occasionally sending them relevant content you think they would find valuable.
If you consistently follow this LinkedIn lead generation strategy, devoting to it as few as 15 minutes a day, you will begin to see a predictable and reliable stream of new leads come in every month. No longer will you have to suffer the highs and lows of the feast and famine cycle if you follow the tried and true process outlined here in The LINK Method™.
To learn more about each of the five steps of The LINK Method™, register for my free LinkedIn Leads video series. In it, I cover how to create a profile that stands out, convert connections into clients and build your authority through content. Get access to the video series here!
Comments