LinkedIn Profile Tips That Help Prospects Choose You
It is a huge success just to be found by your ideal prospects on LinkedIn. Unfortunately, being found isn't enough if your leads leave your profile as soon as they land on it.
Your profile needs to draw in your prospects and show them you could be the solution they've been looking for – but it needs to do this quickly to be effective.
Most people will only scan your profile before deciding whether to invest a few minutes in learning more about you or moving on.
While I have shared other LinkedIn profile posts in the past, in this article I focus on tips specific to making your profile enticing to your prospects. After all, your ultimate goal is for them to hire you.
I'll show you how you can convince your clients you are the right person for the job by demonstrating to them that:
they are in the right place
you are someone they'd want to work with
you have credibility to deliver the solution they need.
Nine client-attracting LinkedIn profile tips
When a prospect views your profile, you have only seconds to convince them they could benefit from learning more about you. That's your first task.
Once you have piqued their interest, your second task is to clearly define whom you help and how you help them so they feel compelled to connect with you. You do it by presenting the right information to them over a number of key sections in your LinkedIn profile.
Quite often, you must accomplish the task of attracting your prospects' attention right away with your LinkedIn Headline.
You have only 120 characters to convince them to click to learn more about you.
To help you, I have created a handy LinkedIn headline infographic, which provides three effective headline styles (with examples) that will move your prospects to learn more about you.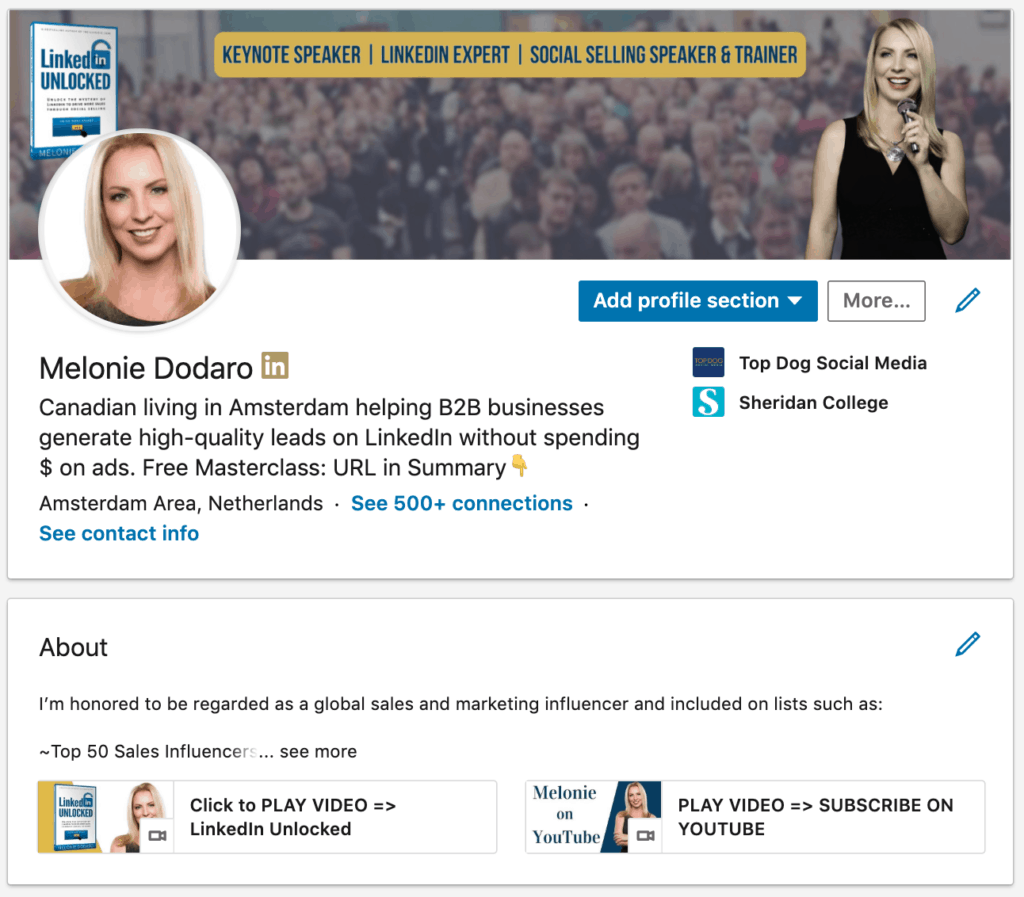 2. About section (formerly the Summary section)
The About section is right below your introduction card at the top of your profile.
If your headline has done the job of getting a prospect to click to learn more about you, your About section on LinkedIn (formerly called Summary) becomes the next most crucial section.
In your About section, you must describe in terms your prospects will understand:
who your ideal clients are
the problems they most want to solve
the solution you provide.
If you do a good job of representing your business in the About section, your prospective clients will recognize themselves and their issues in the description and feel they are in the right place.
A great way to do this is to create a bullet list of your ideal client types using this formula:
[IDEAL CLIENT TYPE] – [DESCRIBE THE PROBLEM OR CHALLENGE] – [DESCRIBE THE SOLUTION] AND [BENEFIT(S) TO SOLVING PROBLEM]
You want to ensure that once your prospects land on your profile, they will self-select.
It is also important that you use your About section to begin establishing your credibility.
You want to tell the viewers of your profile some of your story, explaining why you do what you do and your background.
Within your story, you want to answer as many of these questions as possible:
Who are you?
What do you do?
Whom you do it for?
Why you do what you do?
Why should they listen to you (expertise: experience, education)?
Why should someone hire you?
Your Experience section is another important place where you can showcase how you can help the ideal clients you identified in the About section.
You can list the products or services you offer and the benefits they provide.
Focus on the benefits rather than the features – it is the benefits your prospects will emotionally connect with. You want them to be able to see themselves using your solution and feel success.
Include rich media (videos, presentations, etc.) that allow the visitors of your profile to get a clear sense of who you are and what you do.
Your cover photo becomes vital once a prospect lands on your profile. As part of your introduction card at the top of your profile, this is prime real estate where you can visually communicate what you do.
Make your cover image both professional and informative so that your prospects can tell who you are and what you do at a glance.
An excellent way to establish credibility and showcase your knowledge on a topic is to take advantage of LinkedIn's Articles & activity section.
In this section, your prospects can see a preview of the last LinkedIn Publisher article you posted. Here, you can demonstrate your knowledge and insights.
Viewers of your profile can see all the articles you have posted by clicking the See all articles link. Having high-quality articles valuable to your prospects will greatly help you establish your credibility.
If a prospect enjoys your content, they may also click on the See all activity link to see other content you have shared as status updates.
Add accomplishments to your LinkedIn profile to create a more professional presence. You'll stand out from those with fewer achievements.
The Accomplishments section has many categories:
Publications: List your published works and increase your chances of being found sevenfold
Certifications: List a certification and get five times more profile views
Courses: List coursework from your prior or continuing education
Projects: Add compelling projects to demonstrate your experience
Honors & Awards: Include any awards, accolades or recognitions you've received
Patents: Showcase your innovation and expertise
Test Scores: List a test score here if you excelled in an exam (this is especially good for recent graduates)
Languages: Show how you can be a fit for a job or overseas opportunity
Organizations: Show your involvement with communities important to you
Be sure to add only those sections that are relevant to you and further establish your credibility.
By adding your education, you can achieve two things.
First, you'll improve your credibility.
Second, prospects who may have studied at the same institution, in a similar field or at the same time as you will feel more connected to you because of the common experience.
Add your Post-Secondary education (bachelor, master, etc.) with your degree, field of study, activities and a brief description here.
Leverage social proof on LinkedIn
Although your prospects may have found you as someone who could help them, they may have found a number of other businesses who could do the same.
Why should they pick you?
They may have been impressed by the knowledge you shared in an article, but if you really want to seal the deal, you need to provide further proof that you can deliver on your promises.
This is where the all-powerful social proof comes into play.
Recommendations are the most potent form of social proof of your expertise on LinkedIn.
When people are deciding with whom to do business, they are often swayed by the decision's others have made, so the more recommendations you have, the better.
Similar to testimonials, recommendations give your potential clients insight into how you helped people just like them. Even more importantly, the viewers can verify the identity of the person who wrote the recommendation by clicking on their name. They will know it is a real testimonial from a real person – unlike the fake ones displayed on many websites.
Quality recommendations are important. Ask credible people who can genuinely vouch for who you are and what you do to provide you with a recommendation.
You can ask for recommendations from colleagues and employers. Even more powerful are the recommendations from your clients, who can speak to your abilities and contributions to their lives or businesses.
Learn how to get more recommendations in my post How to Ask for LinkedIn Recommendations.
While not as powerful as recommendations, a list of skills endorsed by your connections provides a level of social proof.
Members who list their skills on their profiles receive up to 17 times more profile views than those who don't. It's worth your time to list all your relevant skills.
Help your prospects choose you with these LinkedIn profile tips
Stand out from your competitors, ensuring your prospects choose you, by including these three key elements into your LinkedIn profile:
Describe whom you serve and how you can help them
Explain who you are and why you are credible
Provide social proof
By infusing your profile with this information, you will make it easier for prospects to choose you over your competitors, creating many more business opportunities for yourself.
Follow these nine LinkedIn profile tips, and turn your All-star profile into a client-attracting engine that will feed your lead-generating pipeline on LinkedIn.
If you prefer to learn with step-by-step videos and templates guiding you, I just created a brand-new online training called LinkedIn Amplified that will help you create a rock-star LinkedIn profile quickly and easily. Check it out here.
Comments
Comments are closed.