LinkedIn Sales Navigator Tutorial
LinkedIn is an amazing tool for lead generation. Unfortunately, with the removal of the Tags & Notes with LinkedIn's new user interface, this makes the lead generation process less efficient and effective.
If you have taken any LinkedIn or social selling training with me, you will know the process I teach relies heavily on this feature to keep you organized and on track with your lead gen. I have spent the last couple of weeks researching alternative options for my community as to replace this lost feature.
In my last article, I shared an affordable option to replace the Tags & Notes feature called Dux-Soup. This tool will work best for those who have a limited budget or those who are just starting out.
If you have a large account and are doing a serious amount of lead generation on LinkedIn, you will need something a bit more robust. This is where LinkedIn Sales Navigator comes in.
You can you import your existing Tags & Notes into the system (although it is not without issue, which I will explain in more detail) and you will also be able to once again do advanced searches.
Here is a breakdown of how to use LinkedIn Sales Navigator to replace the lost features on LinkedIn's new user interface to more effectively and efficiently continue your lead generation efforts.
Using LinkedIn Sales Navigator For Lead Generation
If you are not already a Sales Navigator user, you can start by signing up for their free trial.
Once you have run through their set up wizard, you are ready to start. Don't worry if you make any mistakes during the initial setup, I'll also show you where to go to edit or update this in a future post.
Importing Your LinkedIn Tags & Notes
To import your existing Tags & Notes into LinkedIn Sales Navigator, hover over your profile image located in the blue bar in the top right corner and click Settings.
Scroll down to the bottom of the page where it says Import LinkedIn.com data. Look for Notes & Tags and click on Import to Sales Navigator.
You will see a popup where you can start the importing process or cancel. Click the Import to Sales Navigator button.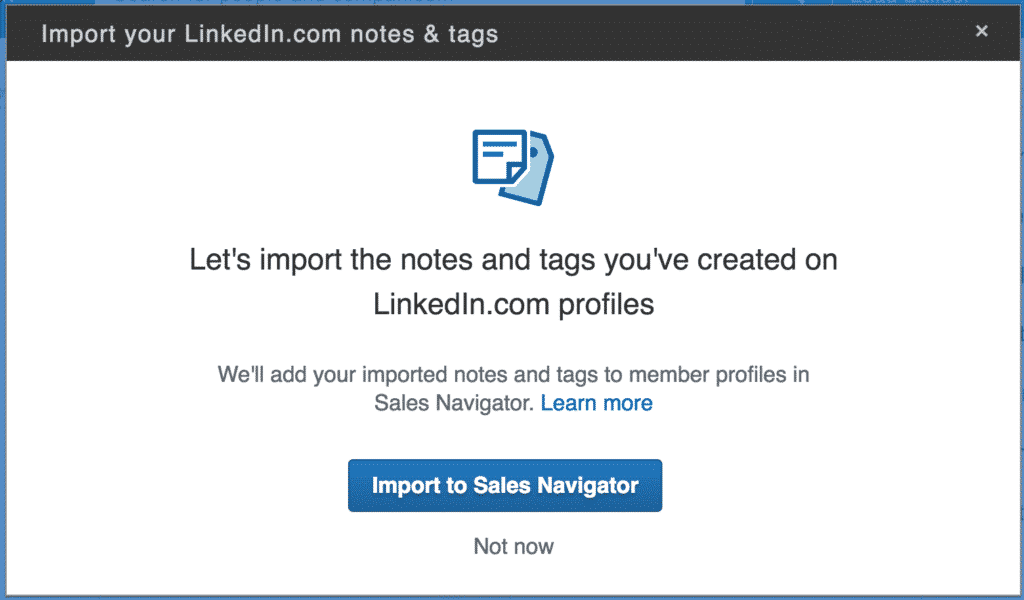 Similar to LinkedIn, you will see a confirmation that the process has started at the top of the screen.
You can double check to see if the process is still going by going back into the Settings area and going down to the Import section at the bottom. Here it will tell when you last imported or if the import is still in progress.
NOTE: Once you have finished the import, you will not be able to see the Notes & Tags you have imported UNLESS you save that person as a lead in Sales Navigator.
Saving Leads in LinkedIn Sales Navigator
Remember when I mentioned that it was not as simple as just importing your notes and tags?
Not only must you move between LinkedIn and Sales Navigator during your lead generation process, but you must also save each and every person who's Notes & Tags you want to see.
If you have a large account with 1000's of people tagged…this could take quite a while to do.
It is for this reason that Sales Navigator is not as efficient as the Relationship Tab, which was built right into each LinkedIn profile.
Saving Multiple Connections As Leads
Here is the process you need to complete to save your existing connections as leads in LinkedIn Sales Navigator, so that you will be able to see your Notes & Tags.
Click on LEADS located in the navigation at the top of the page.
This will take you to the Leads page. Click on Import connections located in the top right corner of the page.
This will open a popup window with a list of all the company's you have connections in. This page will self-populate and may take some time if you have a large number of connections.
Click on a company to add all of the employees from that company as a lead (if there is more than one). If you want to remove any of the employees, simply uncheck them on the right-hand side.
Keep checking companies with employees you want to add as leads. After you have added them, click the blue Finish button located in the bottom right corner of the window.
This will save all of those peoples as leads and you will now be able to see and access their Notes and Tags from their profiles within Sales Navigator.
Keep repeating this process until you have added all of the connections you want in there as leads, or specifically those you wish to access the Notes & Tags for. Yes, this could take a great deal of time if you have a large network but start with your active leads first.
Saving A Single Connection As A Lead
If you need to add someone specific as a lead, simply type their name in the search bar at the top of the screen.
You can save them as a lead directly from the results page rather than having to go into their profile page.
When it asks you if you want to save the lead under a particular account, click Save as lead without account unless you want to add it to a specific account.
You will see it now show up as Saved, on the results page.
Adding New Connections As Leads
For new connections, here is how you can modify your existing LinkedIn lead generation system to work within Sales Navigator.
Begin by going to your Pending Invitations page on LinkedIn.com.
Start the process as you normally would by checking out their profile to see if they are someone you want to connect with. If they are, then select and copy their name.
Open Sales Navigator and paste their name in to the search bar. Click their name when it appears.

Once on their profile, click the blue Save a lead button.
Go back to the Pending invitations page and accept their request as normal.
Now head back to their open profile in Sales Navigator and refresh the page. On the top right side of their profile, add the appropriate tags and notes.
Wrapping Up
While not as efficient or as cost effective as the Relationship Tab was, LinkedIn Sales Navigator provides an excellent way to continue your lead generation activities with little interruption.
While it is unfortunate you have to save each contact as a lead in order to have your Notes & Tags appear, if you focus your energies first on your active leads and then slowly plug away at saving older leads, you will not experience much disruption in your daily process.
In addition to the Tags & Notes section in Sales Navigator, there is also access to an advanced search area. With the Advanced Search no longer accessible on the new user interface, this feature will be extremely helpful for lead generating as well. I will be covering the Advanced Search capabilities of Sales Navigator in a future article, to ensure that you have all the tools you need to be successful with your lead generation process on LinkedIn.
Are you using Sales Navigator? How do you find it affects your lead generation process? Let me know in the comments below.
Comments