Maximize Lead Gen with LinkedIn Tags in Sales Navigator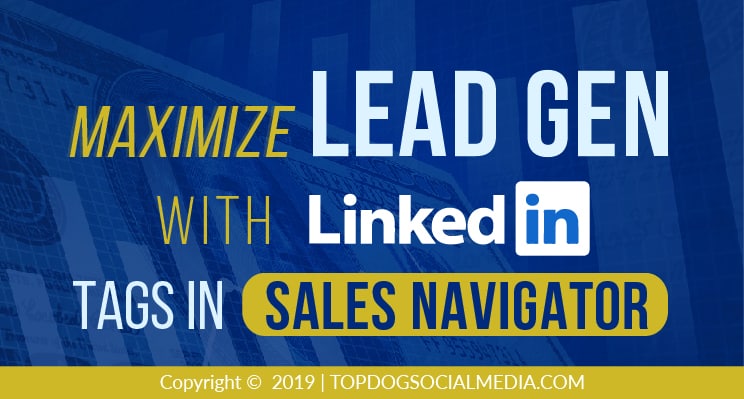 If you are responsible for lead generation, business development or sales, it's likely you are using or have considered using Sales Navigator.
Social selling is highly effective when used strategically and methodically.
But how do you stay organized with all the leads and prospects you are generating?
Tagging your contacts solves that problem.
Unfortunately, the tagging feature is no longer free. It's now available only in Sales Navigator.
If you pay for Sales Navigator and don't use LinkedIn tags, you're missing out on a tool that can improve your efficiency by systematizing your social selling efforts.
LinkedIn tags allow for organization of your lead gen and sales process. They are especially important if you are not using a Customer Relationship Management (CRM) solution, such as Microsoft Dynamics 365, Salesforce.com, Oracle or SAP.
LinkedIn tags, found within Sales Navigator, are a helpful way to streamline your workflow. They help you organize and categorize your saved leads, connections and other LinkedIn members you are interested in.
Tagging your leads allows you to quickly find the people or groups you are looking for.
The tags feature can be found at the bottom of the introduction card on the left for both individuals and companies in Sales Navigator (not available on LinkedIn.com).
Any tags you create and add to a profile are visible only to you.
There are a several reasons to use LinkedIn tags within your social selling process, but let me cover the two most essential ones.
Tags make it easier for you to:
filter and organize your leads and accounts in Sales Navigator
search different segments of your saved leads and accounts, based on where they are in your social selling process.
How to manage LinkedIn tags (add, edit or remove)
You can easily add, edit or remove tags from profiles and accounts.
To add a tag:
go to the profile of the person you are interested in
click the +Add tag link
scroll down to the appropriate tag
click the box to the right of it.
To remove a tag, uncheck the box.
Edit existing tags by clicking the Manage tag list link, found at the bottom of your list of tags.
Click the pencil icon beside any tag you want to rename. Once you edit the name, click Save beside the tag.
Click the trash can icon to delete a tag. When you finish making changes, click Apply at the bottom of the dropdown list.
To add a new tag, type the name into the top field that says Enter tag here, and click Create New link.
If you create a result-producing search in the advanced search, you can save time by tagging profiles and accounts right within the search results.
Simply click the Add tag link located below the Save button on the right side of each profile box.
How to search using LinkedIn tags in Sales Navigator
Searching using your tags is simple within the Sales Navigator Advanced Search:
Click the Advanced link located on the right-hand side of the search box found at the top of every Sales Navigator page.
Select Search for leads to search for individuals or Search for accounts to search for companies.
Scroll down to the bottom of the search filter box, and in the Tags filter click + Add tags. This will open your list of tags.
Click any tags you want to include in your search.
When you finish adding all the filters you want to use, click the Search button located in the top right corner.
This will open the results page where you can further refine your search results.
When and for whom to use LinkedIn tags in Sales Navigator
You can use the tags feature to make your social selling efforts significantly more efficient and effective in a variety of ways.
One of the best ways to integrate LinkedIn tags is by using them to identify where your leads and prospects are within your social selling process. This helps you track what stage you're at with each of your prospects.
For example, when I create a LinkedIn lead generation campaign for my clients, I write a sequence of messages for them to use at various stages through the process.
I then show them how to tag each of their prospects based on the sent messages.
When they are ready to send the next message to those leads, they can use the tags they had created to pull up the list of relevant leads.
I number the tags based on the order of message within the sequence, making the process very simple.
"Prospects 1" equals message one. It's a simple yet highly effective way to manage the lead generation and social selling process.
2. Use location-based tags
Tagging leads based on location can be especially effective if you target more than one city or even country.
Besides online targeting, it helps you connect with people face to face. When you  travel to certain locations, you can find your contacts in those locations by using the corresponding location-based tags you had assigned to them earlier.
When I travel for business, I often check my LinkedIn connections in the area I am visiting by using the location-based tags and sometimes arrange a meet-up with them.
It is a good idea to tag all your clients so that you stay in touch with them.
It's also handy to have them tagged as they can be a great source of warm introductions and referrals for you.
4. Tag your hot prospects
Create a tag for your hottest prospects. This will keep you in the know of their activities, allowing you to engage with them when appropriate and nurture the relationships.
5. Tag influencers in your industry
Create a list of industry influencers for a quick reference by using LinkedIn tags.
Many of the tags listed focus on long-term goals, but LinkedIn tags can also be very useful for short-term activities such as events.
Before, during and after an event, it can be very handy to keep track of the people attending the event and improve your networking. Consider creating tags that include:
event attendees
event speakers
event sponsors
BONUS TIP:
If Sales Navigator doesn't make sense for you at this time but you would like to have the ability to tag people, you can use a low-cost third-party tool. This LinkedIn automation tool is a Chrome plugin. It allows you to tag all your contacts right within LinkedIn and includes many other features.
LinkedIn Tags: The key to organizing your leads in Sales Navigator
Social selling is one of the most effective ways to generate new leads and clients. But doing it haphazardly is often a recipe for disaster.
Staying organized by leveraging Sales Navigator and your tagged lists is essential to your success.
But just as important is the quality of the messages you send. If you want to know what the top 1% do differently on LinkedIn, read this.
LinkedIn tags is just one of the many advantages of using Sales Navigator. If you are paying for this membership, you might as well get all you can out of it!
While you are here, I'd love it if you left me a comment below and let me know 1) what kind of LinkedIn membership you currently have and 2) your biggest LinkedIn struggle so I can create more relevant content for you.
Comments