How Are Your Twitter Manners?
Do you use Twitter for business, yet wonder if you are using it correctly?
Are you worried that you may be unknowingly breaking some of the unspoken rules of proper Twitter etiquette?
If your Twitter etiquette is rubbing people the wrong way, chances are you'll never know because you've been deleted out of their social experience completely.
In this article I have listed eight of the most common Twitter etiquette issues I see on a regular basis. Review the list to see if you have mastered your Twitter manners or if you need to make a few changes.
8 Rules For Optimal Twitter Etiquette
Scroll down for entire article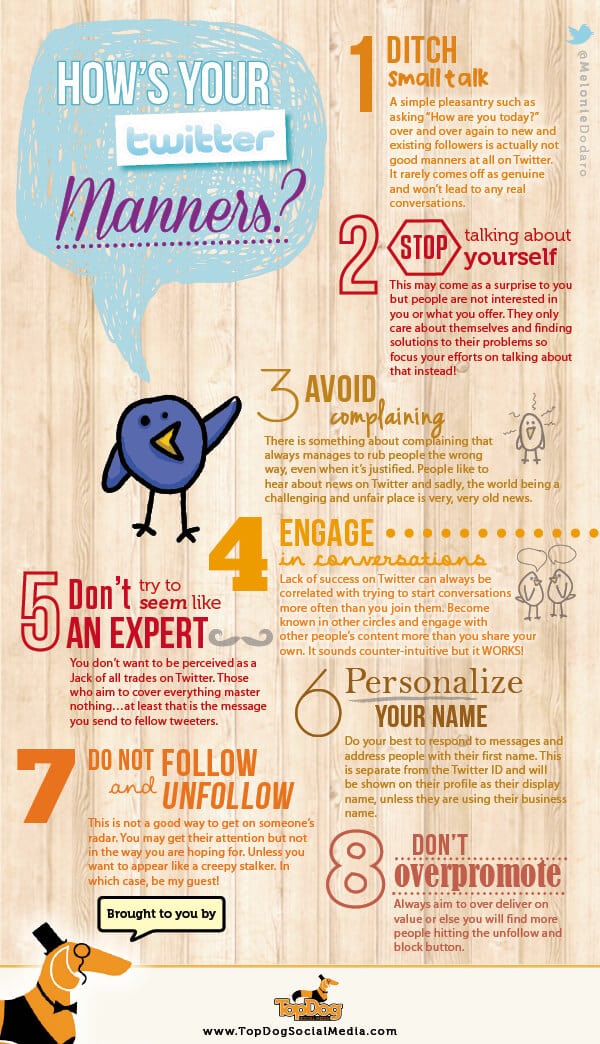 Feel free to share this infographic anywhere you like without modifying it
1. Ditch small talk
Your heart is in the right place if you are trying to politely connect with people but a simple pleasantry such as asking "How are you today?" over and over again to new and existing followers is actually not good manners at all on Twitter. It rarely comes off as genuine and won't lead to any real conversations.
2. Stop talking about yourself
This may come as a surprise to you but people are not interested in you or what you offer. They only care about themselves and finding solutions to their problems so focus your efforts on talking about that instead. The type of content you tweet should be of interest and valuable to your target audience.
3. Avoid complaining
There is something about complaining that always manages to rub people the wrong way, even when it's justified. People like to hear about news on Twitter and sometimes that news is bad, but you must limit complaining or negatively or else you will turn your followers off.
4. Engage in conversations
Lack of success on Twitter can always be correlated with trying to start conversations more often than you join them. Become known in other circles and engage with other people's content more than you share your own. It sounds counter-intuitive but it WORKS!
Don't know where to find great conversations? Read about 6 free Twitter tools that can help you easily find great conversations to interact with.
5. Don't try to seem like an expert at everything
You don't want to be perceived as a Jack-of-all-trades on Twitter. Those who aim to cover everything master nothing…at least that is the message you send to fellow tweeters.
Instead you should aim to be focused and dedicated to your niche. This is how you become perceived as an authority on your topic and offer the most value.
6. Personalize and use their name
Do your best to respond to messages and address people with their first name. This is often separate from their Twitter ID and will be shown on their profile as their display name, unless they are using their business name.
Even if I'm just thanking somebody for a retweet, I make a point of using their first name.
7. Do not follow and unfollow someone repeatedly
This is not a good way to get on someone's radar. You may get their attention but not in the way you are hoping for. Unless you want to appear like a creepy stalker. In which case, be my guest!
8. Don't over promote
Always aim to over deliver on value or else you will find more people hitting the unfollow and/or block button.  Earn your Twitter followers' trust by building a reputation for quality.
Share 5-6 tweets with exceptional, free content before and after you share something that is self-serving or promotional in anyway.
How's Your Twitter Etiquette?
Don't worry if you found yourself committing a few of the Twitter etiquette violations mentioned above, simply commit to fixing them and you'll get on the track in no time. Take the time to analyze your behavior and correct anything that could be turning off potential clients – it will pay dividends in the long run!
What are some of your best examples of good and/or bad Twitter etiquette? Let us know in the comment section below.
Comments