What's Hot & What's Not: Twitter Marketing Strategies in 2018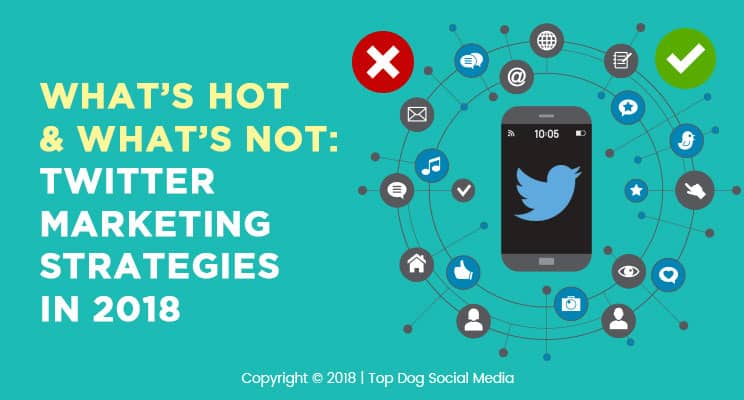 Are you wondering what needs to change with your Twitter marketing strategies?
In the past year, Twitter has lost some traction, does that mean you should scrap or adjust your Twitter strategy?
With more than 300 million users actively tweeting every month and a young demographic to tap into, Twitter has become a prodigious platform for most digital marketers over the past few years. On top of that, Twitter users are three times more probable to follow brands than Facebook users which makes them a potential opportunity for marketing.
Due to continuous changes in the digital marketing trends, Twitter marketing is also constantly fluctuating, and the strategies that were effective in the past years may not work at all now.
However, with modern technologies continuously sprouting, it is crucial to stay updated with the latest developments.
In this article, we'll discuss a few twitter marketing strategies that are going to rock the digital marketing world in 2018.
First, let's take a look at what Twitter underwent in the year 2017.
Twitter in 2017: At a Glance
Unfortunately, in 2017, Twitter remained unsuccessful in growing followers. In comparison, other platforms such as LinkedIn, Facebook and Instagram attracted more social media supporters. Moreover, Twitter lost its NFL streaming deal and Amazon gained the privileges.
Even though Twitter is still a very large player as a social media platform, Twitter is still falling behind Facebook that boasts a substantial 1+ billion users.
However, in 2018, Twitter management is expected to reconsider how the platform works and come up with some possible changes such as:
Vending the business to private stakeholders
Altering the platform to embrace some subscription aspect
Spruced up Twitter marketing possibilities, which are still lagging behind other networks
Twitter Marketing Trends to Watch Out for in 2018
No matter how the Twitter leadership rethinks its game plan, here are the top five trends that are predicted to revolutionize Twitter marketing strategies this year:
1. Upsurge of Augmented Reality (AR) and Virtual Reality (VR)
Apple has announced that both the iPhone 8 and iPhone X integrate a novel chip that will let the smartphones users enjoy astonishing AR experiences.
Although AR and VR will have their preliminary effect on mobile gamification, social media networks are also anticipated to make full use of these technologies.
In fact, Twitter is projected to add innate 360-degree video integration in addition to 360-degree video live streaming.
What does it mean for marketers? Well, it will make it plausible for companies to project their merchandises into the households of social network users through AR and VR.
2. Sustained Investment in Influencer Marketing
Did you know, more than 90% of marketers employing influencer marketing tactics consider it a success?
We have examples of companies such as North Face, Hubspot and Rolex who employ influencer marketing tactics based on social media networks. These social networks help them connect with new consumers and increase engagement with current consumers.
In 2017, we witnessed that companies who opted for old-style marketing approaches had great trouble in connecting to social network users. Therefore, throughout 2018, it is probable that more and more companies will adopt influencer marketing in order to connect with consumers who are likely to disregard old school approaches.
With mature performance measurement tools, Twitter is definitely going to continue being a great solution for influencer marketing.
3. Emphasis on Generation Z
It's time to move over Millennials.
In its study, Goldman Sachs established that most brands consider Generation Z more valuable than Millennials or Generation Y.
Currently, the oldest Gen Z members are around twenty-two years old and are just about to join the workforce. Eventually, they'll have augmented purchasing power in the upcoming time.
Hence, companies will soon become aware of this and will transform their social media approaches in accordance with it. They'll come up with online content for different age groups with the main focus on Gen Z.
According to The Drum, Gen Z spends up to eleven hours daily on social media. Around 66% of those surveyed reportedly use Twitter, while 50% claim that they use it frequently.
4. Hashtagging for Success
The hashtag has been the most efficacious and convenient feature of Twitter. Nowadays, nearly every social media network uses hashtags. However, it was made mainstream by Twitter.
The hashtag feature helps digital marketers in reaching out to a larger audience as even today users usually search for certain hashtags on Twitter, something they can't do on search engines like Google.
You'd be surprised to know that the number of most tweets per minute record is retained by the 2014 World Cup Finals that witnessed an unbelievable 618,725 tweets per minute. And, all this was made possible via hashtags.
Can it be of any benefit to digital marketers? Twitter is overflowing with valuable information for you. From identifying the interests and preferences of consumers to comprehending prevalent trends, there is no better place than Twitter with 500 million tweets sent per day in 2017.
5. Artificial Intelligence (AI) will go mainstream
In 2017, Twitter announced that it has started using AI to endorse specific tweets in users' timelines. Moreover, in 2016 Twitter presented an alleged algorithmic timeline that classified tweets on the basis of relevance rather than being in reverse chronology.
The platform also announced numerous widgets appearing near the top of users' timelines (in reverse chronology) to highlight tweets that it contemplates users might be interested in or might have overlooked.
For the sake of its millions of users, Twitter is now assessing and notching several tweets every second to determine what should be recommended in timelines. All this includes a growing number of aspects, such as whether tweets include pictures or videos, the number of retweets and user likes, and users' earlier exchanges with other Twitter users.
Hence, in 2018, the company will continue working on its AI strategies, which means that marketers can expect to reap the benefits of AI to maximize their marketing policies.
Final Word on Twitter Marketing Strategies
The world is going to continue to witness rapid changes in social network trends (particularly on Twitter) that will influence consumers and companies alike.
In 2018, there's no doubt that live video streaming, AI and VR will take center stage with regards to Twitter marketing strategies and digital marketing overall. Moreover, companies will shift their focus from Millennials to Gen Z which progressively spends their time on Twitter and other social platforms.
Donna Moores is an experienced digital marketing specialist, content writer and blogger. She has gained diverse marketing experience working with companies both large and small. Follow @DonnaMooress on Twitter.
Comments