7 Video Marketing Ideas to Build Your Authority and Attract More Leads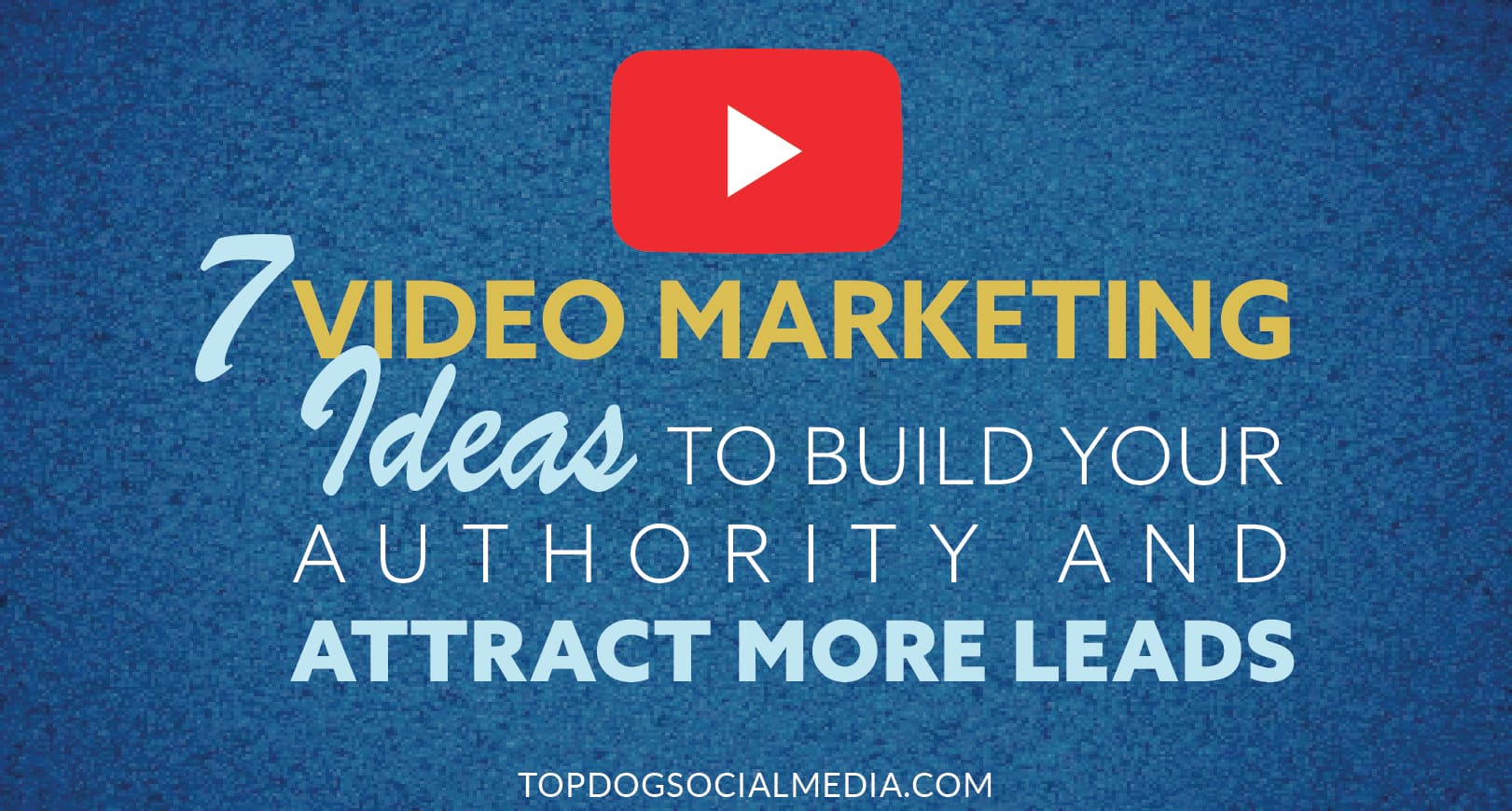 Getting started with video marketing on social media can be tricky. Creating videos takes a bit more than just opening your social media app and tapping out a post or sharing a resource.
That's why it's so easy to get stumped trying to come up with video marketing ideas: it's tough to think of topics that are worthy of your video creation efforts.
But when done right, video is a powerful tool for building your authority and attracting high-quality leads. 
Here are some video marketing ideas that you can use (and reuse) to get you out of the brainstorming stage and leverage the power of video in your social media marketing.
1. Teach skills (How-to videos)
Showing people how to do things never goes out of style. How-to videos get lots of attention because people are always looking for solutions and better ways to do things. If you are new to video marketing, how-to videos are also a great place to start because they are relatively easy to record.
How-to videos are especially powerful for building authority because they prove that you know your stuff. You can't make a how-to video about something without some expertise on the subject.
Plus how-to videos also provide an opportunity for a unique social selling tactic: showing people exactly how to do for themselves what your product or service does.
This might feel like giving away the secret sauce. It works brilliantly, though.
Teaching people how to do what you do for them shortens your sales cycles. It helps prospective clients understand that they need your help. Otherwise, many prospective clients will try to solve the problem themselves first before ultimately turning to your business for help. 
That discovery process might take days or even weeks. A how-to video helps prospects skip past this part of the buying process and get in touch with you faster.
Additionally, a how-to video shows prospects exactly what goes on behind the scenes when they buy from you. This greatly increases the perceived value of your product or service. People often think things are much simpler than they truly are. If your prospects know exactly how you do what you do, they'll understand your value all that much more.
If you aren't quite ready to take the plunge and show people exactly how to do what you do for them, start by creating smaller how-to videos that reduce your client service workload.
Answer common questions about how to use your products

Show people how to choose the right product for their needs

Tell prospects how to prepare to work with your company. 
Also, create a boilerplate how-to video intro. How-to videos will likely become a cornerstone of your social media video content. Creating one standardized intro saves you a lot of time in the long run and builds consistent branding for your content.
2. Deliver industry insights
Everyone loves getting an inside look at the industries that surround the products and services they use. This is especially true when that inside look comes from an industry expert who has a unique view of trends, statistics, and methods.
Industry insights videos are another easy way to dip your toes into video marketing. All you have to do is package up the industry specific knowledge you already have in a way that makes it relevant and easy for your clients to understand.
These videos are also a great way to get your entire team involved. Every team member has a unique perspective on your industry, based on their role. So tap everyone for insights about how your industry works for a nearly endless supply of video content ideas.
Numbers tend to get people's attention because specific information is the most believable. If you collect any industry-specific data, it's a great foundation for an industry insights video.
If industry data isn't an option, you can reveal industry secrets. Almost every industry has interesting facts that most consumers aren't aware of. Think in terms of little-known information about your industry that highlights the strength of your brand.
For example, in their marketing, Purple mattress brand presents the fact that most mattresses are made in the same factory, by the same contractor. But Purple mattresses aren't. It's a perfect instance of industry info that makes a brand more unique.
3. Post executive interviews
Thought leadership is a great way to increase your authority. But this sort of content can be tricky to produce because it requires a lot of experience and cutting edge knowledge.
However, you can get really great thought leadership content from C-suite executives, because it's their job to be ahead of the curve. Therefore, interviewing executives is a quick, simple way to get quality thought leadership material.
Executive interviews also help personalize your brand by giving a face to your business. These videos are a win on multiple fronts.
The biggest trick might be finding time for an interview in any executive's schedule. The limited time and availability require that you have a good set of questions ready.
Your questions should draw out unique information about how the business was started, what makes the business unique, or how the business plans to stay out in front of the competition.
You also might consider using video interviewing software that will give you access to all the tools that are necessary for conducting interviews, including a digital structured interview system with built-in custom rating scales and recording features.
Also, take time to edit these interviews. It's easy to give rambling answers. Make a few cuts to ensure that the end product is concise and to the point. 
Case studies have been a marketing staple for years. We know they work. Why not share your case studies as video content?
Video case studies can be even more powerful than written case studies, because you can add video clips of your client talking about their experience. That's more engaging than a quote with a picture of the client.
It's also easy to make your video case studies shorter and faster to consume than your written case studies. Your video case studies can be summaries of their written counterparts. That way your video case studies work as a supplement to your written material.
The tricky part is getting interview footage from your clients. It's often easier to get video footage as part of your case study writing process. That way you don't have to ask your clients back for an interview after they've already done their part for a written case study.
Build a video collection into your case study production to get all the footage you need in one fell swoop. Also, don't be afraid to capture footage from a video call. Client interviews are more believable if they look a bit less produced.
If you can't score footage, don't be afraid to make a case study video anyway. Animated text that shares the highlights of a case study is still a powerful way to convey information.
5. Recap in-person events
Not everyone can make it to in-person events. But there's always tons of value at live events.
Recapping in-person events shares this value with your social media audience. And you can add even more value by curating all the information from those events.
This way, you help people who couldn't be there get the value that they might have otherwise missed. And you save them the trouble of walking around and figuring out what's worth seeing.
Event recaps give people at least some of the value of live events as efficiently as possible. And recapping events helps increase your authority because in-person events are usually designed for industry experts. Just proving that you were there offers evidence of your industry expertise.
Make sure you get plenty of footage from the event. Get more than you think you'll need. It might feel cumbersome during the event. But you'll be glad you have more than you need when you start editing.
Next, choose an angle for your recap. Broad recaps have a tendency to be unfocused and rambling. Tighten the focus to make your event recaps more concise and more valuable.
Try something like "10 things we learned at…" or "Every new product announcement from…" These approaches will limit the material you need to cover and give you the opportunity to create multiple videos from a single event.
6. Showcase company values
Believe it or not, like it or not, clients care about company values. It's not all about the quality of your product or service. Clients also want to buy from good companies.
Video is one of the best ways to showcase your company values. 
It's very difficult to write about your company values in a way that feels believable. But when you get your team on camera to talk about what it's like to work at your company and how your company positively impacts their working life, you're essentially providing people with video testimonials of your company values. And it feels a lot less like you're just preaching about how great your company is.
Avoid trying to cover everything at once. Covering a single company value in one video is fine. And it's wise to keep it under three company values per video.
Even though the employees are doing most of the talking, your company is still talking about itself. It's best to keep things short.
Choose a company value to showcase in your video, craft a few questions that will get people talking about it, and gather a few interviews. Then edit the footage into a bite size video.
7. Highlight industry news stories
Offering your take on industry news stories makes great video content, especially considering that you may be able to get some stock footage from traditional media coverage of the story. Just be careful to choose the news that appeals to your most valuable audience.
Make sure that you're either sharing news stories that are inherently appealing to your target audience or supplementing a less relevant story with your own insights that make the story interesting to your clients.
Choose any news story, then use your experience to comment on why it matters to your audience.
Yes, you can take a pure news angle. But your content will be more engaging if you add your own commentary. So do your best to get someone on camera who can present a few talking points about the news you're sharing.
Bonus Tip: Create videos from your written content
If you've been producing written content — blogs, text-based social media posts, email newsletters, and so on — turning your written content into video is a quick and easy way to get your video marketing rolling.
But won't that be redundant? Won't people notice that it's just repackaged content?
They won't notice as much as you think. Most people have preferences in the sort of content they consume. The people who watch your videos often won't have read your written pieces, because they prefer videos, and vice versa.
Therefore, most people won't notice the overlap. And those that do usually won't care. It's a pretty standard practice.
Turning written pieces into videos is one of the best ways to get your video marketing off the ground, since you already have the content ideas fleshed out and ready to go. All you have to do is write a video script, shoot, edit, and publish.
This gives you a nice stockpile of video marketing ideas to lean on while you whip up other types of videos.
Writing the script is the trickiest part. It's easy to write a script that's too long or too short. It takes about 60 words of video script to get one minute of video. Keep that in mind while you write your script.
But don't let it get too long winded. Keep your video concise, especially if it's for social media.
The final cut on video marketing ideas
Video is a powerful selling tool for social media. But making videos requires more resource investment than most other types of content. So it's critical to put your best marketing ideas into your videos. That way your videos attract leads the way they should.
Keep these ideas in mind as you create your videos, and your videos will attract potential clients day in and day out.
Leah Diviney is a content manager at Biteable, the world's simplest video maker. When Leah isn't busy making videos, she's writing about them for the Biteable Blog.
Comments